DIFFERENT CUISINES
by Granny Mago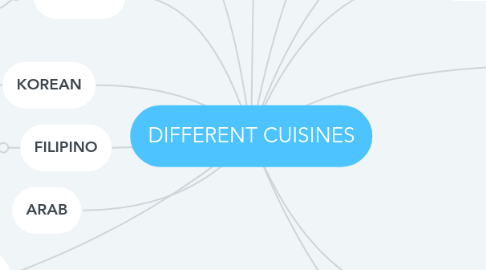 1. More on herbs and spices
2. Is just more on pasta and pizzas
3. Japanese food is usually based off steamed white rice, which can be served with miso soup and other side dishes like fish or pickled vegetables as well as with a main protein and sauce. 
4. FRENCH CUISINES
4.1. Big pastries, wine, and cheese arr the specialty
5. FILIPINO
5.1. Sweet, sour and spicy
6. ITALIAN
7. CHINESE
7.1. Non spicy
8. JAPAN
9. ARAB
10. KOREAN
10.1. Spicy foods
11. GREEK
11.1. Greek cookery makes wide use of vegetables, olive oil, grains, fish, wine and meat.
12. Spanish
13. Spain's culinary traditions rely on an abundance of locally grown vegetables and fruits as well as meats and poultry. Jamón serrano , a cured ham, and chorizo , a seasoned sausage, are popular
14. Vietnamese food is one of the most varied and seductive on the planet – a delicious mix of the food of its colonial visitors and age-old native flavours and techniques.
14.1. Vietnamese
15. Seafood is a very significant part of the diet of the inhabitants of the coast of the Persian Gulf. Fish is very popular, usually eaten with rice