internet safety 101: top onlinethreats
by Oscar Maya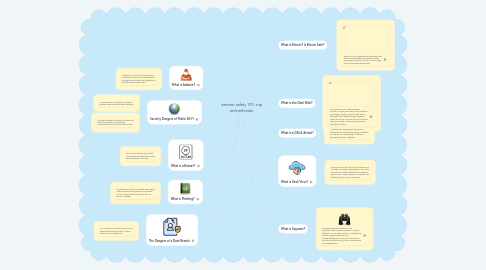 1. What is Bitcoin? Is Bitcoin Safe?
1.1. Bitcoin es una criptomoneda generada por redes de computadoras y puede usarse para pagar muchas cosas en línea en lugar de las monedas tradicionales.
2. What is the Dark Web?
2.1. se conoce como la web profunda. Si bien la mayor parte de la web profunda es benigna, lugares como la web oscura albergan todo, desde drogas ilegales y venta de armas, e incluso ofrecen servicios web que venden información personal a ciberdelincuentes.
3. What is Adware?
3.1. Adware es un tipo de programa que muestra anuncios en su computadora, redirige las solicitudes de búsqueda y recopila datos sobre usted.
4. Security Dangers of Public Wi-Fi
4.1. Las conexiones wifi públicas también pueden usarse para distribuir malware.
4.2. Los datos enviados a través de redes wifi públicas pueden ser fácilmente interceptados por los ciberdelincuentes.
5. What is a Botnet?
5.1. Una red de bots es una red de computadoras infectadas, usada con propósitos criminales
6. What is a DDoS Attack?
6.1. Un ataque de denegación de servicio distribuido (o DDoS) sobrecarga un sistema de red, ya sea ralentizando el tráfico o bloqueándolo por completo.
7. What is Phishing?
7.1. El phishing es un tipo de estafa que intenta obtener información personal simulando ser un correo electrónico oficial de una fuente confiable.
8. What is ZeuS Virus?
8.1. El virus ZeuS es una forma de malware que se dirige a múltiples dispositivos. Es una de las piezas de malware botnet más exitosas que no solo compromete las máquinas sino también la información financiera.
9. The Dangers of a Data Breach
9.1. Una violación de datos es cuando los ciberdelincuentes pierden o roban información confidencial:
10. What is Spyware?
10.1. El spyware puede penetrar en sus dispositivos de muchas maneras ocultas y abiertas. Una vez que esté en su dispositivo, puede causar problemas muy desagradables por el robo de información bancaria confidencial y el daño permanente a sus dispositivos.