PEDAGOGY AND DIDACTICS
by Dayana Mantilla Peña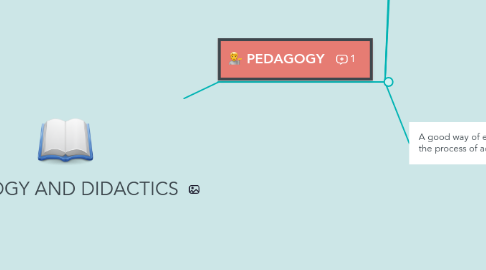 1. PEDAGOGY
1.1. The art and science of teaching.
1.2. Their ability to reflect, make judgements and respond
1.3. PEDAGOGUES AND TEACHERS
1.3.1. Education includes the nurture of the child and, as it grows, its culture.
1.3.2. Discipline, instruction and guidance
1.4. A good way of exploring pedagogy is as the process of accompanying learners
1.4.1. NATURE OF EDUCATION
1.4.1.1. There two different ways to teach
1.4.1.1.1. Schooling
1.4.1.1.2. Education
1.4.2. PEDAGOGUES AND TEACHER IN ANCIENT GREEEK SOCIETY
1.4.2.1. Pedagogue
1.4.2.1.1. Responsible for every aspect of the child's upbringing
1.4.3. THE ROLES AND THE RELATIONSHIPS OF PEDAGOGUES
1.4.3.1. The one trains for school only, the other for life.
1.4.3.2. Roles
1.4.3.2.1. Carring books and bags. Ensuring their words were safe Morat guides.
1.4.3.3. Relationship
1.4.3.3.1. Help to ward learn. Conversation and disciplining.
1.4.4. THE GROWING FOCUS ON TEACHING
1.4.4.1. A growing interest in the process of teaching and the gathering together of examples, guidance and knowledge.
1.4.4.1.1. DIDACTICS
1.4.4.1.2. THEORIES OF TEACHING