CONCEPTUALIZING CONTENT ACCORDING TO LANGUAGE, LEARNER AND SOCIAL CONTEXT
by Berenice Yesenia GH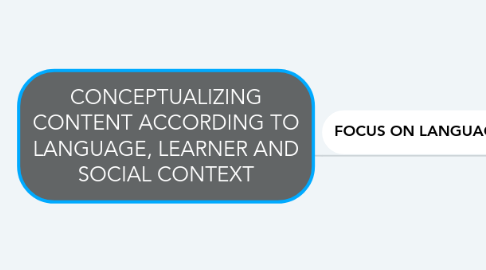 1. FOCUS ON LANGUAGE
1.1. LINGUISTIC SKILLS
1.1.1. • The way language is structured.
1.1.2. • Includes: • Phonology • grammar • vocabulary
1.1.3. • Structural syllabus
1.2. SITUATIONS
1.2.1. The situations are the contexts in which the language is used.
1.2.2. Situations can be about everyday things or to request some kind of necessary or specific information.
1.3. TOPICS/THEMES
1.3.1. Topics are what the language is used to talk/write about.
1.3.2. May be: Personal, professional, or sociocultural.
1.3.3. Themes may be broader than topics Topical syllabus and thematic syllabus
1.4. COMMUNICATIVE FUNCTIONS
1.4.1. Includes functions such as persuading, expressing preference, and apologizing.
1.4.2. to mean any kind of transaction or interaction
1.5. COMPETENCES
1.5.1. Tries to specify and teach the * L and behaviour needed in certain situations.
1.5.2. Situation+linguistic skill+functions
1.6. TASKS
1.6.1. the interactions whose purpose is to do something
1.6.2. are a way of working where you expect to reach a result.
1.7. CONTENT
1.7.1. It's a subject matter not specific of *L
1.7.2. The importance of L2 or the importance of content may vary
1.8. SPEAKING
1.8.1. include knowing how to negotiate turn-taking and producing fluent stretches of discourse.
1.9. LISTENING
1.9.1. include listening for gist, for tone, for invitations to take a turn
1.10. READING
1.10.1. include predicting content, understanding the main idea, interpreting the text.
1.11. WRITING
1.11.1. using appropriate rhetorical structure, adjusting writing for a given audience, editing one's writing.
1.12. GENRE
1.12.1. Language at the discourse level can also be viewed in terms of genre,
1.12.2. communicative events or "whole" texts
1.12.3. language as a resource for making meaning and texts as the vehicle language users construct to make meaning.