Can Internet access be sustainably provided in ultra low density, isolated and economically poor population areas in a developing country context.
by
Neill Hogarth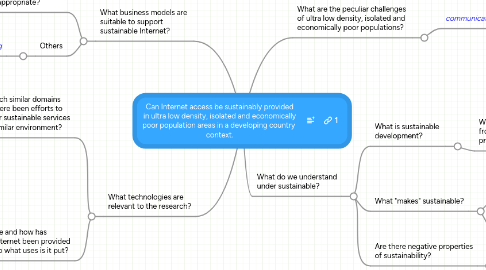 0.0
stars - reviews range from
0
to
5
This is part of the "Big Plan" that can be seen at https://www.mindmeister.com/124995404
What business models are suitable to support sustainable Internet?
What financial model is appropriate?
the "charity" model
the "business" model
Others
social engineering, culture, management
What technologies are relevant to the research?
In which similar domains has there been efforts to deliver sustainable services in a similar environment?
power
water
...
Where and how has the internet been provided and to what uses is it put?
What are the uses of the Internet?, communication, research, delivery of services
What are the methods Available to deliver Internet?, cable, satellite, wireless, bus
What do we understand under sustainable?
What is sustainable development?
What can be learned from the study of previous cases?, failures, Guyana, rest of world, sucesses
What "makes" sustainable?
Which sustainable models are approprpriate?, VSM
What are the "properties" of sustainability?, Andrea's COBRA presentation
Are there negative properties of sustainability?
Blocks development?
What are the peculiar challenges of ultra low density, isolated and economically poor populations?
communications