THE DIRECT METHOD
by Stefany Rojas Duran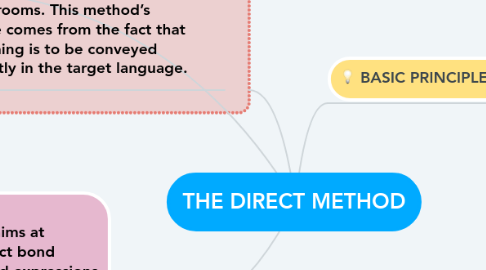 1. Definition : Teachers, frustrated by the limits of the Grammar Translation Method in terms of its inability to create communicative competence in students, began to experiment with new ways of teaching language like Direct Method in post-war and depression era classrooms. This method's name comes from the fact that meaning is to be conveyed directly in the target language.
2. BASIC PRINCIPLES
2.1. This method is based on sound principles of education.
2.2. It believes in introducing the particular before general, concrete before abstract and practice before theory.
3. OBJECTIVES: The Direct Method aims at establishing the direct bond between thought and expressions and between experience and language.
4. TECHNIQUES
4.1. Dictation
4.2. Reading Aloud
4.3. Getting Students to Self-Correct
4.4. Map Drawing
4.5. Paragraph-Writing
4.6. The interactions between ''student-teacher''