Marvel Cinematic Universe Events (Incomplete)
by Liam Valdez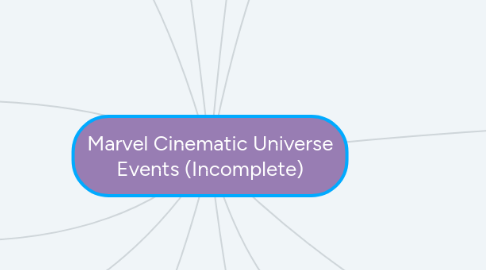 1. Iron Man
1.1. Iron Man 1
1.1.1. War Machine's First Appearance
1.2. Iron Man 2
1.2.1. Black Widow's First Appearance
1.3. Iron Man 3
2. Captain America
2.1. 1: The First Avenger
2.1.1. First Appearance of Tesseract (Space Stone)
2.1.2. Bucky Barnes' First Appearance
2.1.3. Steve Rogers was preserved in over 70 years and presumed dead after his victory over Red Skull
2.2. 2: The Winter Soldier
2.2.1. Falcon's First Appearance
2.2.2. Nick Fury faked his death
2.3. 3: Civil War
2.3.1. Appearance of T'Challa. His father T'Chaka died on bombings on UN Speech.
2.3.2. Spiderman's First Appearance on MCU
2.3.3. Ant-Man's First Appearance
2.3.4. Tony Stark found out about the death of their parents.
2.3.5. First Appearance of Wakanda
3. Hulk
4. Thor
4.1. 1: Thor
4.2. 2: The Dark World
4.2.1. First Appearance of Reality Stone
4.3. 3: Ragnarok
4.3.1. Hela (older sister of Thor) destroyed Thor's Mjolnir
5. Captain Marvel
5.1. Captain Marvel and Nick Fury's Negotiation
5.2. How Nick Fury lost his Left Eye
6. Avengers
6.1. Avengers 1
6.1.1. Agent Phil Coulson Died
6.1.2. First Appearance of Clint Barton
6.2. 2: Age of Ultron
6.2.1. Creation of Vision along with the Mind Stone on his forehead.
6.2.2. First and Last Appearance of Quicksilver. Died by saving Clint and the child.
6.2.3. First Appearance of Wanda Maximoff
6.2.4. Infinity Gauntlet Appearance
6.3. 3: Infinity War
6.3.1. Soul Stone Appeared. Thanos exchanged Gamora's life to the stone.
6.3.2. Creation of Thor's Stormbreaker
6.3.3. Thanos collected the stones made the universe half of the people remaining.
6.3.4. Nick Fury Called Out Captain Marvel (Post-Credit Scene)
6.4. 4: Endgame
6.4.1. Stan Lee's Last Cameo Appearance
7. Doctor Strange
7.1. The Appearance of the Time Stone (Eye of Agamotto)
8. Black Panther
8.1. Introduces Wakanda Technology (Vibranium)
9. Ant-Man
9.1. 1: Ant-Man
9.2. 2: Ant-Man and the Wasp
10. Guardians of the Galaxy
10.1. Vol. 1
10.1.1. First Appearance of Power Stone
10.2. Vol. 2
10.2.1. Yondu died saving Quill
11. Spiderman
11.1. 1: Homecoming
11.2. 2: Far From Home
12. Notes
12.1. This was based on what I have remembered events on MCU
12.2. I haven't watched Avenger's Endgame and Spider Man Far From Home yet
12.3. Please don't spoil Endgame