MATERIAL REQUIREMENTS PLANNING AND ERP -Aloysia Danni / 171223497-
by Aloysiia Danni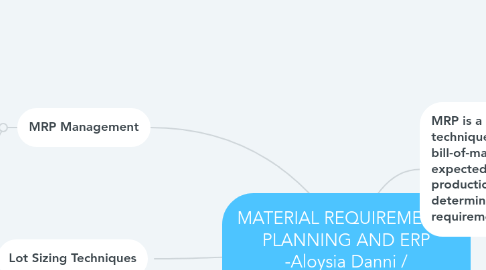 1. MRP is a dependent demand technique that uses a bill-of-material, inventory, expected receipts, and a master production schedule to determine material requirements.
1.1. Bill-of-material is a listing of the components, their description, and the quantity of each required to make one unit of a product.
1.1.1. Modular Bills
1.1.2. Planning Bills
1.1.3. Phantom-bills of materials
1.1.4. Low-level coding
2. MPS is a timetable that specifies what is to be made
3. MRP Management
3.1. MRP Dynamics
3.2. MRP Limitations
4. Lot Sizing Techniques
4.1. Lot-for-lot
4.2. EOQ
4.3. POQ
4.4. Lot Sizing
5. Extension of MRP
5.1. MRP II
5.2. Close-Loop MRP
5.3. Capacity Planning
6. Enterprise Resource Planning (ERP)
6.1. an information system for identifying and planning the enterprise wide resources needed to take, make, ship and account for customer orders.
7. Efficient Consumer Response (ECR)
7.1. Supply Chain Management systems in the grocery industry that the sales to buying, to inventory, to logistics, and to production