Recognize the elements of Child Custody and Support of Children
by India Robinson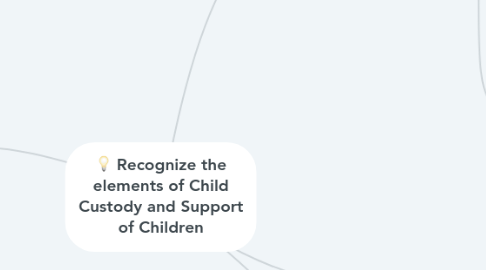 1. Child Custody
1.1. Legal Custody
1.1.1. The parent's right to make major decisions about the child's health, education, and welfare
1.2. Physical Custody
1.2.1. The daily living arrangements of the child
1.3. Child Support
1.3.1. Federal laws require states to enforce child support guidelines
1.3.1.1. What are those guidelines?
1.3.1.1.1. Consider all earnings and income of non-custodial parent
1.3.1.1.2. Have a specific mathematical formula to determine the support obligation
1.3.1.1.3. Provide for the children through insurance or other means
1.3.2. Parents share in support, according to their income
1.3.3. Obligation should never be zero
1.3.4. The child should share in the parent's standard of living
2. Sole Custoday
2.1. Children live with "custodial parent"
2.2. Visitation rights can be given to the "non-custodial parent"
3. Joint Custody
3.1. Children live with both parents, but at different times
3.2. Parents may compete for joint or sole custody of the children
4. How does the court decide custody
4.1. Some states favor awarding custody to the primary caretaker in the marriage
4.2. Most states take great consideration of what the child's wishes are