PROPERTY PRO FINDERS ORGANIZATION CHART
by Yield Advisor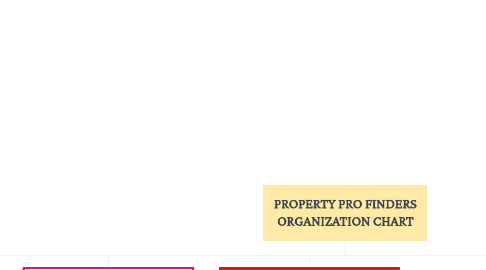 1. Cold Caller/Appointment Setter
1.1. Making outbound calls on provided script
1.1.1. Finding motivated sellers
1.1.2. Obtaining property information
2. Field Operations Manager/ Field Workers
2.1. Networking
2.1.1. Employee
2.1.2. Employee
2.2. Finding properties information
2.3. Placing bandit signs and keeping track of it
2.3.1. Recruits bird dogs
3. Office Manager/Transaction Coordinator
3.1. Managing the title process from start to finish
3.1.1. Managing title and finding buyers as well as being the point of contact for the seller.
3.1.2. Analyzing the deal, sends a written offer via email or mail, and places the lead into an automated text/email/mail sequence Podio etc.
3.2. Keeping the team organized, keeping the database current, gathering together paperwork from the seller and the buyer.
3.2.1. Working with the title company to make sure all parties show up to closing.
3.2.2. Closing/making sure payments get wired in.
4. Lead Manager/Dispositions Coordinator
4.1. Receiving inbound calls
4.2. Making Outbound Calls to Sellers
4.2.1. Convince & facilitate seller to initiate conversation with Acquisitions Manager for receiving offer
4.2.2. Relationship Building with Investor- Buyers
4.2.2.1. Dispositions Coordinator will marketing the property to buyers and potential buyers.
4.2.2.1.1. Dispositions Coordinator creates a purchase agreement with the investor who is interested in buying the property.
5. Acquisitions Manager
5.1. Making outbound calls to home owners
5.1.1. Negotiate Deals
5.1.2. Building Rapport with these motivated sellers before, during, and after the appointment.
5.2. GETTING CONTRACTS SIGNED