The Infinitive
by Cami Osorio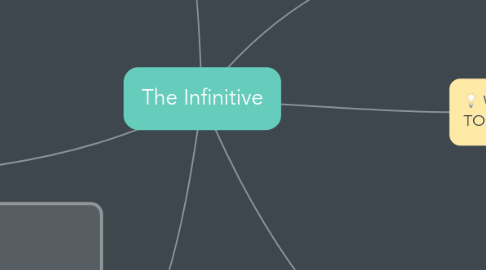 1. The verbs see,hear,and make are followed by infinitive with ti in the passive,they were seen to break into the house.I was made to tidy my room.
2. WE USE THE INFINITIVE WITHOUT TO
2.1. AFTER MODAL VERBS: CAN,COULD,MAY,MIGHT,MUST,SHOULD.
2.2. AFTER THE VERBS: SEE,HEAR,WATCH,AND NOTICE.
2.3. AFTER THE VERBS: LET AND MAKE.
2.4. AFTER WOULD RATHER AND HAD BETTER.
3. These verbs can alsobe followed by a present participle verb+-ing.however,there is a diferrence in meaning. COMPARE: I saw Patrick wash the car. OR I saw all the action from the beginning to the end.
4. The verb help can be follovered by an INFINITIVE WITH OR WITHOUT TO
5. WE USE THE INFINITIVE WITH TO
5.1. 1._TO SHOW PURPOSE
5.2. 2.- AFTER THE VERBS: AFFORD,AGREE,ARRANGE,ASK,ETC..
5.3. 3,.AFTER ADJECTIVES SUCH AS: AFRAID,GLAD HAPPY AND SORRY
5.4. 4.- AFTER TOO AND ENOUGH
5.5. 5.-AFTER IT+BE+ADJECTIVE
6. Note
6.1. 1.-I want to learn Spanish.(the verb and the infinitive have the same subject.)
6.2. 2.- I want her tolearn Spanish.(the verb and the infinitive have differen subjects.In this case the subject of the infinitive has to go before it.)
6.3. 3.- In English,there is also a perfect infinitive:(to)have waited,(to)have bought.It refers to the past and it is often used after modal verbs.He is late.He may have missed the bus.