Gastritis
by Melissa SALAZAR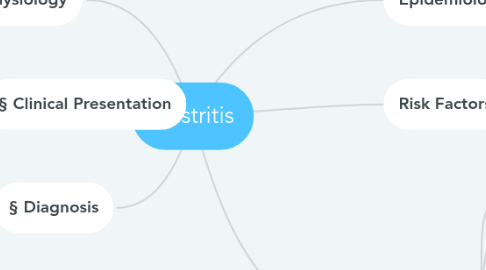 1. Epidemiology
1.1. H. Pylori diagnosis, Good hygiene, Household size, and cooking habits are all leading risk factors for diseases.
1.2. 5% of cases are autoimmune in origin.
2. Risk Factors
2.1. § H. Pylori infection
2.2. NSAID use
2.3. Alcohol use/toxic ingestion
3. Pathophysiology
3.1. Gug
3.2. § Acute gastritis: H. Pylori. Alcohol NSAIDs. Metabolic disorders, and histamine can cause inflammation and reduces gastric sensations.
3.3. § Chronic: Gastric mucosa degenerates over time from reduced parietal cella and intrinsic factor, lack of T-Cell tolerance and development.
4. § Clinical Presentation
4.1. Heartburn
4.2. Burning/aching in epigastric area ( can get worse or better with food
4.3. Nausea
4.4. Vomiting
5. § Diagnosis
5.1. History and physical exam
5.2. Endoscopy
5.3. H. Pylori testing
5.4. Biopsy
6. § Treatment
6.1. Mild can self-repair
6.2. Dietary changes
6.3. Antacids
6.4. Quit smoking
6.5. Dietary changes
6.6. Stress reduction
6.7. Avoid NSAIDs
6.8. Avoid alcohol