Assistive Technology
by Jen P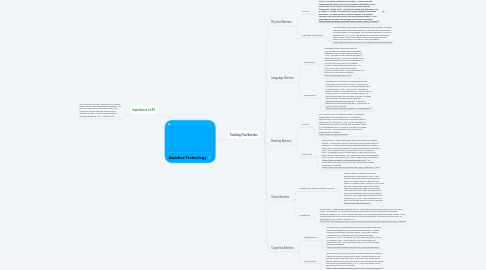 1. Tackling Five Barriers
1.1. Physical Barriers
1.1.1. Jouse 3
1.1.1.1. Jouse 3 is a mouth controlled USB joystick. It can be used by individuals with physical barriers by creating an alternative cursor control that can be used on computers and mobile devices (Compusult Limited, 2019). The joystick is used with the cheek, chin, or tongue. A simple USB connection is used between the joystick and device. No other source of power is needed. The product includes a two-year return policy and free technical support. More information and a video can be found at Compusult's website (https://www.compusult.com/html/Jouse3_Demo_Video_2018.mp4 ).
1.1.2. Adjustable Head Pointer
1.1.2.1. The Adjustable Head Pointer is manufactured by Maddak. It assists individuals that have limited hand use. This product can help with writing, drawing, turning pages, and activating switches or controls (Wright Stuff, Inc., 2019). The product also includes a removable pencil holder. More information on the product and purchase options can be found on Caregiver Product's website (https://www.caregiverproducts.com/adjustable-head-pointer.html ).
1.2. Language Barriers
1.2.1. Brainfingers
1.2.1.1. Brainfingers helps individuals who are non-verbal or who have limited expressive language (Brain Actuated Technologies, Inc., 2018). This device uses a headband that is fitted with sensors. The sensors detect facial and eye movements as well as brainwaves. It converts this information to computer controls. Brainfingers can be rented. Any rent money can be applied to the full purchase of the device. More information can be found on Brainfinger's website (http://www.brainfingers.com ).
1.2.2. Proloquo2Go
1.2.2.1. Proloquo2Go is a product for Augmentative and Alternative Communication (AAC). It is used as a communication tool and for building language skills (AssistiveWare, 2019). The product is available in English, Spanish, French and Dutch. It can be used on an iPhone, iPad, iPod touch, and Apple Watch. An informational video can be found through a Youtube link provided on AssistiveWare's website (https://youtu.be/d3zKPHLk6-Q ). A parent's testimonial can be found through a Youtube link on AssistiveWare's website (https://www.youtube.com/watch?v=ZOxfeYeExoo ).
1.3. Hearing Barriers
1.3.1. PFM Pro
1.3.1.1. PFM is a Personal FM Listening System. It enhances sound directly to a hearing device. It is great for settings that contain background noise which affect a hearing device (Williams AV, LLC., 2018). Examples of settings could be school, church, and conference halls. It is rechargeable, has 17 channels, and there is a range up to 150 feet. More information can be found on WilliamsSound's website (https://www.williamssound.com ).
1.3.2. Listen Loop
1.3.2.1. Listen Loop is a device that works with a hearing aid or cochlear implant. It allows the listener to have their own personal listening experience. It helps someone with a hearing impairment, which is often called an invisible disability (Listen Technologies Corporation, 2019). The amplifier sends a current into a loop or a series of loops. A magnetic field is created which is then turned into an audio signal for the listener. An overview of Listen Loop products can be found on the website for Listen Technologies Corporation (https://www.youtube.com/embed/bGD6xgu9Sjg ). An informational brochure can be found on Listen Technologies Corporation's website (https://www.listentech.com/assets/flyer_listen_listenloop_v1.pdf ).
1.4. Vision Barriers
1.4.1. Duxbury DBT: Braille Translation Service
1.4.1.1. Duxbury DBT is software that can be downloaded for Windows or Mac. It will translate word documents into braille and send it to a braille device. There are two types of software used. One type is for those that can already read braille, and another type is for those who need to learn braille. Many people do not realize that characters used and contractions do not automatically translate. DBT makes this possible (Duxbury Systems, Inc., 2019). More information can be found through Duxbury System's website (https://duxburysystems.com ).
1.4.2. omniReader
1.4.2.1. omniReader is a lightweight, portable device. It aids individuals that are blind or have low vision needs. omniReader can read text aloud and allows users to follow along with colored text (Freedom Scientific Inc., 2019). The product has a 10-inch display that is only three pounds. It has a long battery life and can be programmed for several languages. A brochure can be found on the website from Freedom Scientific, Inc. (https://support.freedomscientific.com/content/Documents/ProductFlyers/omniReader_Flyer.pdf ).
1.5. Cognitive Barriers
1.5.1. Kurzweil 3000
1.5.1.1. Kurzweil 3000 is a program that supports individuals that have learning disabilities such as dyslexia and dysgraphia. It helps individuals with tasks involving fluency, vocabulary, writing, comprehension, study skills, and test taking (Kurzweil Education, 2019). The learner will view demonstrations on how to complete tasks. This program can be downloaded for Windows or Mac. More information can be found at Kurzweil Education's website (https://www.kurzweiledu.com/k3000-firefly/overview.html).
1.5.2. Stories2Learn
1.5.2.1. Stories2Learn is an app for autistic or general education students. It helps the learner create social stories. The app works on eye contact, sharing, and other skills. The main focus of this app is autistic children, but it can also be used for individuals that are shy and have social anxiety (Taylor, 2011). More information can be found in the article for best apps (https://www.bestappsforkids.com/2011/kids-apps-stories2learn ).
2. Importance of AT
2.1. An AT device is an item, equipment, or product that is used to help people with a disability. The Tech Act and IDEA 2004 require states and schools to provide assistive technology to students in need. AT services must also be provided (Westling, Fox, & Carter, 2015).