Inclusion in Manitoba Education
by Juila Douglas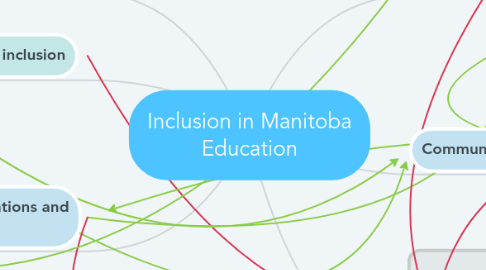 1. A way of thinking and acting.
2. Philosophy of inclusion
2.1. Every individual to feel accepted, valued and safe.
2.2. Communities consciously and continuously evolve to meet the needs of it's members.
3. Diversity
3.1. Accepted!
3.2. Teachers to enhance student abilities to deal with diversity.
3.3. Equal access to citizenship.
3.4. Needs are always changing within the community.
4. Community building
4.1. More than physical location of student.
4.2. Meaningful involvement. Purpose.
4.3. Values and belief systems that support participation and belonging.
4.4. Benefits the WHOLE group and not just one individual.
5. Teacher Expectations and Practices
5.1. Use of Positive Behaviour Systems
5.2. Use of IEPs.
5.3. Follow regulations to support appropriate educational programming.
5.4. Adaptations and Modifications.
5.5. Universal design and differentiated instruction.
6. Ultimate goal: Student sense of personal belonging and achievement!