MANAGEMENT OF MANGROVES IN MALAYSIA.
by Syazwani Saffar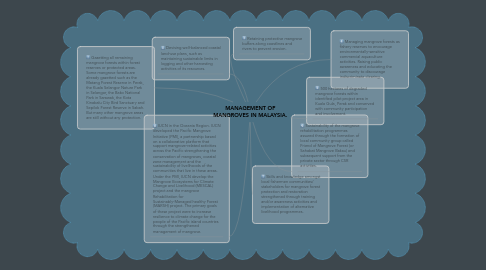 1. Gazetting all remaining mangrove forests within forest reserves or protected areas. Some mangrove forests are already gazetted such as the Matang Forest Reserve in Perak, the Kuala Selangor Nature Park in Selangor, the Bako National Park in Sarawak, the Kota Kinabalu City Bird Sanctuary and Sepilok Forest Reserve in Sabah. But many other mangrove areas are still without any protection.
2. Devising well-balanced coastal land-use plans, such as maintaining sustainable limits in logging and other harvesting activities of its resources.
3. Retaining protective mangrove buffers along coastlines and rivers to prevent erosion.
4. Managing mangrove forests as fishery reserves to encourage environmentally-sensitive commercial aquaculture activities. Raising public awareness and educating the community to discourage indiscriminate clearing.
5. 500 hectares of degraded mangrove forests within identified pilot project area in Kuala Gula, Perak and conserved with community participation and involvement.
6. Sustainability of the mangrove rehabilitation programmes assured through the formation of local community group called Friend of Mangrove Forest (or Sahabat Mangrove Bakau) and subsequent support from the private sector through CSR activities.
7. Skills and knowledge amongst local fishermen communities/ stakeholders for mangrove forest protection and restoration strengthened through training and/or awareness activities and implementation of alternative livelihood programmes.
8. IUCN in the Oceania Region. IUCN developed the Pacific Mangrove Initiative (PMI), a partnership based on a collaborative platform that support mangrove-related activities across the Pacific strengthening the conservation of mangroves, coastal zone management and the sustainability of livelihoods of the communities that live in these areas. Under the PMI, IUCN develop the Mangrove Ecosystems for Climate Change and Livelihood (MESCAL) project and the mangrove Rehabilitation for Sustainably-Managed healthy Forest (MARSH) project. The primary goals of these project were to increase resilience to climate change for the people of the Pacific island countries through the strengthened management of mangrove.