The Roaring 20s
by Thivishaan Nishanthan - Heart Lake SS (2462)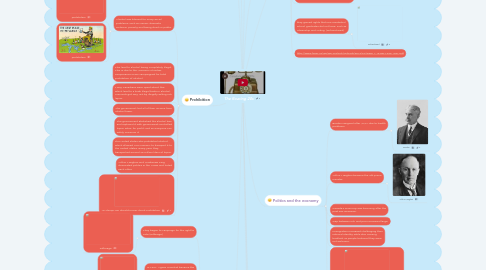 1. In 1920, it was mandatory that all native children were to go to residential schools.
2. Aboriginals
2.1. Residential schools were created.
2.1.1. Residential school
2.2. Changed the natives' culture and lifestyles to be more like the typical Christian Canadian. (assimilation)
2.2.1. First Nation culture
2.3. Many residential school children hated the schools, they were abused, both sexually and physically, some children even died. At the schools, the children often had to do house work and labour to decrease costs.
2.4. they gained rights that non-residential school graduates did not have, such as citizenship and voting. (enfranchised)
2.4.1. Enfranchised
2.5. http://www.fnesc.ca/wp/wp-content/uploads/2015/07/IRSR11-12-DE-1920-1927.pdf
3. Politics and the economy
3.1. Borden resigned after WW1 due to health problems.
3.1.1. Borden
3.2. Arthur Meighen became the 9th prime minister.
3.2.1. Arthur Meighan
3.3. Canada's economy was booming after the post war recession.
3.4. Gap between rich and poor remained large.
3.5. Immigration increased challenging their national identity while also causing backlash as people believed they were not welcome.
3.6. Political History | The Canadian Encyclopedia
4. New technologies and Inventions
4.1. Snowmobile - 1922
4.2. Pablum - 1929
4.3. Snowblower - 1927
4.4. Insulin - 1927
5. Urbanization
5.1. Cities started building taller buildings, some reaching 30 stories tall.
5.1.1. building
5.2. Cities also started building residential suburbs.
5.2.1. suburbs
5.3. Streetcar and road systems were made to link suburbs and to the center of the cities, where most industries and services were located.
5.3.1. steetcars
5.4. These changes lead to Canadians not as self-sufficient as they were before. They relied on services offered in urban areas, such as grocery/clothing stores, housing, education, healthcare etc.
5.5. The political power of urban areas increased, while the political power in rual areas decreased.
5.6. Urbanization
6. Prohibition
6.1. Alcohol was blamed for many social problems, such as crimes, domestic violence, poverty and being drunk in public.
6.1.1. prohibition
6.1.2. prohibition
6.2. This lead to alcohol being completely illegal. This is due to the Woman's Christian Temperance union campaigned for total prohibition of alcohol.
6.3. Many Canadians were upset about this, which lead to a brisk illegal trade in alcohol. Criminals got very rich by illegally selling rich liquor.
6.4. The government lost all of their income from alcohol taxes.
6.5. The government abolished the alcohol ban and replaced it with government-controlled liquor sales, for profit, and so everyone can safely consume it.
6.6. The United States also prohibited alcohol, which allowed 'rum runners' to transport it to the United States. Every year, they transported around 45 million liters of liquor.
6.7. Arthur Meighen and Mackenzie King dominated politics in the 1920s and hated each other.
6.8. 10 Things You Should Know About Prohibition
7. Canadian women
7.1. They began to campaign for the right to vote.(sufferage)
7.1.1. sufferage
7.2. In 1921, Agnes MacPhail became the first woman elected to parliament. This was before the first federal election in which women had the right to vote. While in the house of commons, she worked to bring justice to canadian farmers, immigrants and other marginalized groups.
7.2.1. Agnes MacPhail
7.3. In 1921, Irene Parlby was appointed as the first female cabinet minister in Canada and second in the British Empire. She held this political position for 14 years and advocated the rights of rural women and children. Her and Agnes MacPhail were part of the "Famous Five" in the Person's Case.
7.3.1. Irene Parlby
7.4. Prince Edward Island grants women the right to vote in provincial elections and run for political office. It was one of the last Canadian provinces to do so, but nevertheless helped Canada progress towards full suffrage.
7.5. British Columbia passes an act that grants women 6 weeks maternity leave before and after giving birth. This act was the first of its kind in Canada and respected women of the workforce who also had a responsibility to raisie children at home.
7.6. Status of Women | The Canadian Encyclopedia
8. Fashion
8.1. Shorter, low-waisted dresses and revealing styles worn by the Flappers.
8.2. The 'bobbed' hairstyles.
8.2.1. dress
8.2.2. Hair
8.3. Cloche hats
8.4. Haphazard fashion of a mixture of brightly colored clothes.
8.5. Scarves and stockings with bold, striking Art Deco geometric designs of the era.
8.6. Civilization.ca - Before e-commerce - Catalogues and women's fashion
9. Sports
9.1. Known as the golden age of sports for Canada.
9.1.1. Hockey
9.2. One of their first accomplishments came from Lunenburg, Nova Scotia, with the launching of a racing schooner in 1921.
9.3. Professional hockey was Canada's most loved sport. Many Canadians watched or listened to games on the radio to pass time.
9.4. Howie Morenz was the best hockey player in the 1920s as he won the Hart Trophy three times.
9.4.1. Howie Morenz
9.5. Lionel Conarcher was an all around athlete, and was a hero to all Canadians. He was a fullback in football, a lightweight boxing champion, and a wrestling champion. He also helped the Toronto Maple Leafs baseball team win the International league in 1926. He also played lacrosse and hovkey
9.5.1. lacrosse
9.6. 150 years of Canadian sport: the 1920s
10. Entertainment
10.1. More daring dances became popular during the Roaring 20s. This is because swing dancing developed with jazz music. The most popular dances were the foxtrot, waltz, and tango.
10.2. Modern music became popular as a result of developments in the media. (radio, records, films)
10.3. The most popular types of music back then was Jazz music and Orchestras.
10.3.1. Jazz
10.4. Women liked listening to the radio while cooking or cleaning, and men would listen to music on the radio.
10.5. They also used radios for communication.
11. Canadian Culture
11.1. Some of the best artworks of the 1920s were created by the Group of Seven.
11.2. Franklin Carmichael, Lawren Harris, A.Y. Jackson, Frank Johnston, Arthur Lismer, J.E.H. MacDonald and Frederick Varley were the members.
11.3. In 1920, the group had their first exhibition. At this time many people considered the Canadian landscape ugly and unworthy of being painted. They were proved wrong however over the next decade by the Group of Seven. The group became known as pioneers to a new Canadian art, finding new and different ways to portray the beauty of the landscapes.
11.3.1. painting
11.3.2. painting
11.4. group of seven
11.5. Stephen Leacock wrote humorous books that were read and enjoyed by the whole world.
11.6. Canada A Country by Consent: The Roaring Twenties: Arts & Culture 1920s