DEVELOPMENT
by Cesar Benavides Ruiz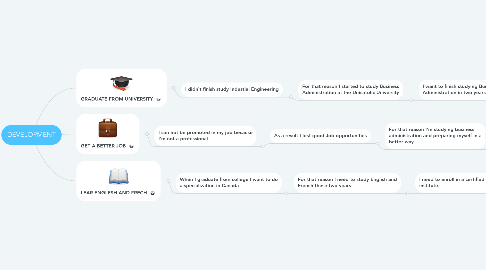 1. GRADUATE FROM UNIVERSITY
1.1. I didn`t finish study Industial Engineering
1.1.1. For that reason I started to study Business Administration at the Unicatolic University
1.1.1.1. I want to finish studying Business Administration in two years
2. GET A BETTER JOB
2.1. I can not be promoted in my job because I'm not a professional
2.1.1. As a result I lost good Job opportunities
2.1.1.1. For that reason I'm studying business administration and preparing myself in a better way.
2.1.1.1.1. In six months I will be an administrative technician and I will request a better position within the clinic.
3. LEAR ENGLESH AND FRECH
3.1. When I graduate from college I want to do a specialization in Canada
3.1.1. For that reason I need to study English and French these two years
3.1.1.1. I need to enroll in a certified language institute.
3.1.1.1.1. in two years I hope to reach the sufficient level in both languages ​​to present myself to the tests of the specialization