Could the implementation of Virtual Reality technologies across various fields of healthcare enhance diagnostics, treatment delivery, and improve patients' prognostics?
by Amy Grace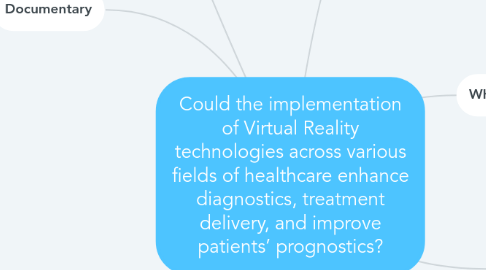 1. What does the future of VR look like?
1.1. Find out who is testing/trialing new technologies in healthcare
1.2. How can the community have access to this technology?
2. Qualitative Research
2.1. One on One Interviews
2.2. Focus Groups
2.3. In depth information
2.4. Projects
2.4.1. Results from projects
2.5. Up and coming technology
2.6. Who is involved in creating the technology
2.7. Find out who is involved
3. Staples Virtual Reality Company Auckland
3.1. What technology is emerging from this company
3.2. Why and how is the technology beneficial?
3.3. What problems do we face with vr technology
3.4. Who is Funding the technology?
3.5. investigate what new technologies are improving patient care and recovery
3.6. What emerging ideas are promising in this area of research
4. Documentary
4.1. Purpose
4.2. Educate
4.3. Inform
4.4. Influence
4.5. community interest
4.6. Change peoples perspective on emerging vr technology
4.7. show positive, influential people who are creating this technology for positive change