LYMPHATIC AND IMMUNE SYSTEM
by lindsay collins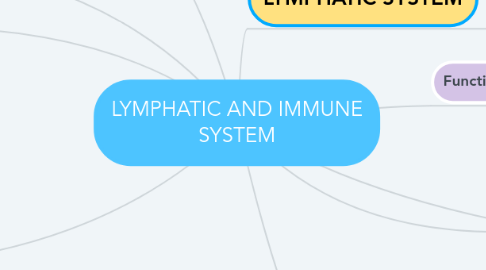 1. - Lymphoid organs: lymph nodes,spleen, tonsils, thymus
1.1. Lymph nodes
1.1.1. filter lymph
1.2. thymus
1.2.1. located at mediastinum
1.2.2. produces T lymphocytes
1.2.3. eventually replaced by fat (during childhood)
1.3. tonsils
1.3.1. 3 masses of lymphoid tissue around opening of mouth and throat
1.3.2. subject to chronic infection
1.4. spleen
1.4.1. largest lymphoid organ in body
1.4.2. phagocytosis of bacteria and old RBC
1.4.3. acts as blood reservoir
2. Lymph Nodes
2.1. -clusters in: Armpit - Neck - Groin
3. LYMPHATIC SYSTEM
3.1. moves
3.1.1. Fluid in the body
3.1.1.1. Through
3.1.1.1.1. Lymph Vessels
3.1.1.2. Located nearby
3.1.1.2.1. Lymph nodes
4. Function
4.1. - To drain away protein-containing fluid that escapes from blood capillaries into tissue space. - Transport fats from digestive tract to the blood. - To produce immunities.
5. IMMUNE SYSTEM: responds to
5.1. Immunity: The development of specific resistance to infection is called immunity.
5.2. Antigen: Molecules from a pathogen or foreign organism that provoke a specific immune response.
5.3. Pathogens,: Damage from foreign substances, and harmful chemical.
6. Lymphocytes
6.1. B Cells ( Humoral Immunity )
6.1.1. Produce antibodies.
6.2. T Cells ( Cellular Immunity )
6.2.1. Helper T cells
6.2.1.1. attract and activate macrophages, produces cytokines that help activate B cells
6.2.2. regulatory T cells
6.2.2.1. release cytokines to suppress immune responses
6.2.3. cytotoxic t cells
6.2.3.1. kill infected or tumor cells by releasing poisons infected or tumor cells
7. FUNCTION
7.1. protection from disease causing microorganisms
8. Immune system consist of
9. Types of Immunity
9.1. Innate Defense
9.1.1. Skin and mucous membranes
9.1.2. Secretions: chemically inhibit activity
9.1.3. Inflammation:isolates pathogen
9.1.4. Fever
9.1.5. Neutrophils- first phagocytes to arrive
9.1.6. macrophages: monocytes enlarged to become GIANT phagocytes to consume many pathogens
9.1.7. Complement: produce a cascade to rupture foreign cells. triggered by innate or adaptive immune
9.2. Adaptive
9.2.1. Natural Immunity
9.2.1.1. Active immunity:have the infection, immune to future exposure
9.2.1.2. Passive Immunity: through mothers placenta/breastmilk
9.2.2. Artifical immunity
9.2.2.1. Active immunity: intentional exposure to agent. (vaccines)
9.2.2.2. passive immunity: inject protective ANTIBODIES from another individuals immune system