ACTIVITY 4. Predictions for my life.
by wilmer Laguado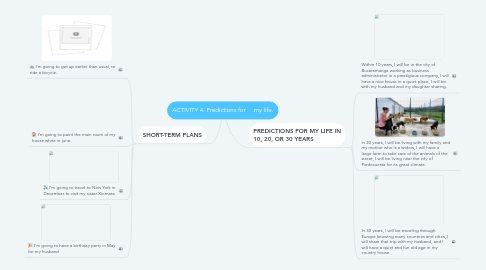 1. PREDICTIONS FOR MY LIFE IN 10, 20, OR 30 YEARS
1.1. Within 10 years, I will be in the city of Bucaramanga working as business administrator in a prestigious company, I will have a nice house in a quiet place, I will be with my husband and my daughter sharing.
1.2. in 20 years, I will be living with my family and my mother who is a widow, I will have a large farm to take care of the animals of the street, I will be living near the city of Piedecuesta for its great climate.
1.3. In 30 years, I will be traveling through Europe knowing many countries and cities, I will share that trip with my husband, and I will have a quiet and fun old age in my country house.
2. SHORT-TERM PLANS
2.1. I'm going to get up earlier than usual, to ride a bicycle.
2.2. I'm going to paint the main room of my house white in june.
2.3. I'm going to travel to New York in December to visit my sister Xiomara.
2.4. I'm going to have a birthday party in May for my husband