The english curriculum
by Choranai Shaw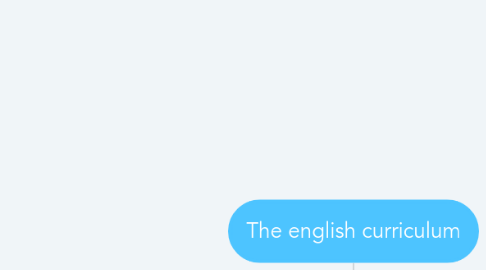 1. Teaching and learning programs
1.1. Teaching learning programs should balance and integrate all three strands
1.1.1. Teaching learning programs should balance and integrate all three strands
1.1.1.1. Also using the multiple modes of literacy Listening Reading Viewing Speaking Writing Creating
1.1.2. The three strands focus on developing students Knowledge Understanding Skills
2. Is built around the three interrelated strands of Language Literature Literacy
2.1. In year 2, students communicate with Peers Teachers Students from other classes People from the community
3. Class activity
3.1. During silent reading each student will recognise the phrases in the language of the each book they read (ACELA1460). Then each student will identify the differences between the book "I can do it!" and other books that are similar, then compare the books central messages (ACELT1587). After each student has identified the key differences between the books, they will then address those differences to the class (ACELY1665).
3.1.1. - Reading - Speaking - Listening - Viewing
4. Theories
4.1. Bottom-up theory and skills model relates to the year 2 curriculum of english as students learn english it builds on concepts, skills, and processes developed in earlier years. although they will be built upon as needed.
4.2. Top-down theory and whole-language model relates to the year 2 curriculum Literary as texts that support and extend Year 2 students as independent readers involve sequences of events that span several pages and present unusual happenings within a framework of familiar experiences. Informative texts present new content about topics of interest and topics being studied in other areas of the curriculum.
4.3. Critical theory and four resource model relate to the year 2 curriculum of english as students engage in with a variety of texts for enjoyment. the students listen to, read, view and interpret spoken, written and multimodal texts in which the main purpose is to entertain, as well as texts designed to inform and persuade.
4.4. Transactional theory and reader response model related to the year 2 curriculum of english as students encompass traditional oral texts, picture books such as the I can do it! book, various types of print and digital stories, simple chapter books, rhyming verse, poetry, non-fiction, flim, multimodal texts , dramatic performances and texts used by the students as models for constructing their own work.