KODE ETIK IKATAN SURVEYOR INDONESIA (BIDANG HIDROGRAFI)
by Rajoki purba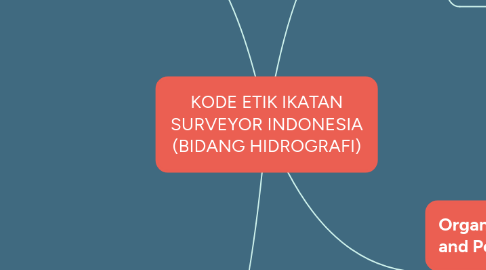 1. Definisi
1.1. etika dipandang sebagai cabang filsafat yang khusus membicarakan tentang nilai baik dan buruk dari perilaku survey hidrografi
1.1.1. The classic definition of KM by Tom Davenport (1994).
1.2. etika Hidrografi dipandang sebagai ilmu pengetahuan yang bersifat normatif, dan evaluatif yang hanya memberikan nilai baik buruknya terhadap perilaku Seorang Surveyor Hidrografi. Dalam hal ini tidak perlu menunjukkan adanya fakta, cukup informasi, menganjurkan dan merefleksikan.
1.2.1. The most cited definition by Bryant Duhon (1998) from the Gartner Group.
2. Organizations and People
2.1. People generate, capture, share, and apply knowledge, primarily through human interaction. People can help cultivate an environment that encourages knowledge exchange and use of knowledge management systems.
2.2. Structure
2.2.1. Work Teams
2.2.2. CoPs
2.2.3. Expertise Networks
2.3. Culture
2.3.1. Values
2.3.2. Behaviors
2.3.3. Attitudes
3. HIDROGRAFI KHUSUS
3.1. khusus atau lebih tepatnya disebut hidrografi lanjut adalah kegiatan survei hidrografi yang dilakukan sesuai dengan kebutuhan
3.2. JENIS KHUSUS
3.2.1. 1. Keperluan untuk pembangunan pelabuhan
3.2.2. 2. Survei Industri Lepas Pantai (seismic, magnetic, gravity, dan seterusnya
3.2.3. 3. Industri minyak
3.2.4. 4. Danau dan sungai
3.3. KETENTUAN UMUM
3.3.1. 1. Dapat menjawab semua permasalahan surveying
3.3.2. 2. ≥ 10% terjun ke pasar industri
3.3.3. 3. Pendidikan (baik vokasi maupun akademik) siap menuju jenjang selanjutnya.
4. HIDROGRAFI BIASA
4.1. atau hidrografi dasar dapat diartikan sebagai survei batimetri.
4.2. KODE ETIK
4.2.1. prinsip umum
4.2.1.1. Berperilaku Jujur
4.2.1.2. Profesional
4.2.1.3. Yakin akan kebenaran
4.2.1.4. rendah hati
4.2.2. DEFINISI
4.2.2.1. KUMPULAN PERATURAN SISTEMATIS (Saat ini masih mengikuti ISI)
4.2.2.2. landasan belum dibentuk dan masih "rancu"dalam mengambil keputusan etik