HOW CAN YOU EASILY GET THE MEANING OF A WORD?
by Maria Clara Malala Arbelaez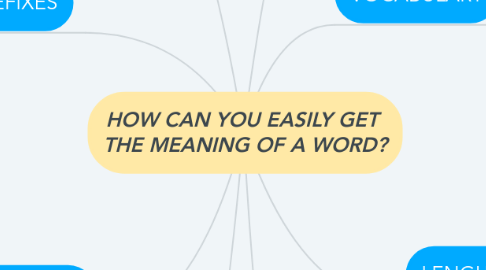 1. READ
1.1. Reading in a foreign language is not easy, studies show that reading for pleasure makes a big difference to children's educational performance.
1.1.1. Learning to read is about listening and understanding as well as working out what's printed on the page. Through hearing stories, people are exposed to a wide range of words. This helps them build their own vocabulary and improve their understanding when they listen, is vital as they start to read.
2. MEANINGS
2.1. Meanings are at the core of our experience and also at the core of whatever we do. It is only through meanings that we make sense of our existence. In life we find meaning through a sense of purpose which makes life worthwhile. Frankl (1978)
2.1.1. Meaning serves a number of important functions in human lives (Frankl, 1992). Firstly, meaning provides a purpose for our lives. Secondly, it furnishes values or standards by which to judge our actions. Thirdly, it gives us a sense of control over the events in our life.
3. PREFIXES
3.1. A prefix is a group of letters placed before the root of a word. For example, the word "unhappy" consists of the prefix "un-" [which means "not"] combined with the root (or stem) word "happy"; the word "unhappy" means "not happy." Examples: de- dis- ex- il- non- pre- pro.
3.1.1. A prefix is a beginning that is added to a root word. For example, take the root word "purpose." By adding the prefix "multi" to "purpose," the new word "multipurpose" is formed. Every prefix has its own meaning. When added to a root word, a prefix changes the meaning of the root word to which it is added.
4. SUFFIXES
4.1. Some suffixes indicate verb tense. These are the most common and recognizable suffixes because everyone uses them all the time.Suffixes can show plurals by adding –s or –ies to the end of a noun. Suffixes can be used to show comparisons (comparative and superlative forms). Suffixes can often change a word's function from one part of speech to another, as well as indicate the part of speech. –ify/–fy
4.1.1. A suffix is a meaningful unit of letters attached to the end of a word. Suffixes have the power to change the meaning or even grammatical function of a word! Knowing the meaning behind suffixes can help you identify what part of speech the word is.
5. VOCABULARY
5.1. Vocabulary is critical to reading success for three reasons: Comprehension improves when you know what the words mean. Since comprehension is the ultimate goal of reading, you cannot overestimate the importance of vocabulary development. Words are the currency of communication. A robust vocabulary improves all areas of communication — listening, speaking, reading and writing.
5.1.1. Vocabulary is a set of words within a language that are familiar to a particular person. Every person's particular vocabulary is unique and often not given much thought or attention as it tends to develop with age and grow and evolve over time. It is ordinarily defined as 'all of the words known and used by a particular person' although 'knowing' a word is not as simple as you may think.
6. SYNONYMOUS
6.1. A synonym is simply a word that means the same as the given word. When speaking or writing, one of the best ways to expand your vocabulary and to avoid using the same words repeatedly is to use a thesaurus to find synonyms (similar meaning words).
6.1.1. Benefits of Using Synonyms Some of the benefits of using synonyms are that they can:Make text much more captivating. Help avoid dull text. Improve communication between you and others. Help provide an image in the mind of the reader. Help avoid boring and repetitive text.
7. LENGUAGE
7.1. By Leonardo De Valoes, Adjunct Faculty The unique and diverse methods human beings can use to communicate through written and spoken language is a large part of what allows to harness our innate ability to form lasting bonds with one another.
7.1.1. Learning a new language is a great way to make yourself stand out from the competition. As the world becomes more and more globalized, the demand for language speakers from companies is on the increase as they expand operations into new markets.
8. ANTONYM
8.1. Antonyms are a fundamental part of the day by day correspondence in various circumstances. antonyms are utilized to separate implications of sentences and their structures and are a wellspring of new method for correspondence.
8.1.1. An antonym is a word that means the opposite of another word. For instance, the antonym of 'hot' may be 'cold.' The root words for the word 'antonym' are the words 'anti,' meaning 'against' or 'opposite,' and 'onym,' meaning 'name.'