COME
by Isabella Alanís Manllo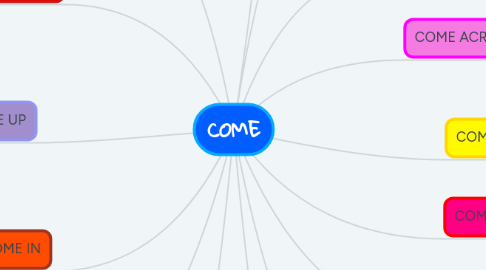 1. COME IN
1.1. 1.join or become involved in an enterprise. 2.Finish a race in a specified position.
2. COME BACK
2.1. 1.a return by a well-known person, especially an entertainer or sports player, to the activity in which they have formerly been successful. 2.a quick reply to a critical remark.
3. COME BY
3.1. 1. call casually and briefly as a visitor. 2. manage to acquire or obtain (something).
4. COME ALONG
4.1. 1.arrive. 2.said when encouraging someone or telling them to hurry up.
5. COME AROUND
5.1. 1. recover consciousness. 2. be converted to another person's opinion.
6. COME ACROSS
6.1. 1. meet or find by chance. 2. hand over or provide what is wanted.
7. COME OFF
7.1. 1. (of an action) succeed; be accomplished. 2. become detached or be detachable from something
8. COME BY
8.1. 1. call casually and briefly as a visitor.
9. COME OUT
9.1. 1. (of a fact) emerge; become known. 2.appear; be released or published.
10. COME ON
10.1. used as an exclamation, it can be encouragement for someone to do something
11. COME OVER
11.1. 1. (of a feeling or manner) begin to affect (someone). 2. change to another side or point of view.
12. COME THROUGH
12.1. produce or deliver a result
13. COME UP WITH
13.1. create or invent something
14. COME UP
14.1. (of an issue, situation, or problem) occur or present itself, especially unexpectedly.
15. COME TO
15.1. Regain consciousness