GAMES AS TEACHING METHOD IN PRIMARY SCHOOL
by JANE SHISHOVA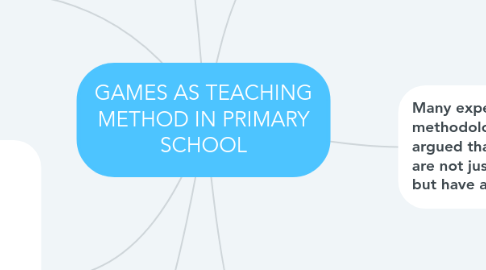 1. Goals, rules, challenge, and interaction
2. A game is a structured activity, usually undertaken for enjoyment and sometimes used as an educational tool.
2.1. Many teachers use entertaining and didactic games on their lessons for increasing the pupil's activity,
3. Many experienced textbooks and methodology manuals writers have argued that games are not just time – filling activities but have a great educational value.
3.1. W. R. Lee holds that most language games make learners use the language instead of thinking about learning the correct forms. He also say that games should be treated as central not peripheral to the foreign language teaching program.
3.1.1. As Lee observes, a game "should not be regarded as a marginal activity filling in odd moments when the teacher and class have nothing better to do".
3.2. "Games can lower anxiety, thus making the acquisition of input more likely" (Richard - Amato).
4. Rixon suggests that games be used at all stages of the lesson, provided that they are suitable and carefully chosen. At different stages of the lesson, the teachers' aims connected with a game may vary:
4.1. 1. Presentation. Provide a good model making its meaning clear;
4.2. 2. Controlled practice. Elicit good imitation of new language and appropriate responses;
4.3. 3. Communicative practice. Give students a chance to use the language.
5. All playing syllabus can be divided for: 1. educational games which depend on teaching material; 2. entertaining games, which characterize by puzzles, logical games, games for quickness of wit.
6. The main areas in which implemented game methods and techniques: 1) didactic goal to students in the form of a game problem; 2) training activities subject to the rules of the game; 3) the training material is used as its tools in learning activities introduced as an element of competition, which transfers didactical task during the game; 4) the successful implementation of the didactic tasks associated with the result of gaming.
7. G. K. Selevko classified educational games on such criteria as: field of activity, the nature of the pedagogical process, playing technique, subject area, game environment.
7.1. There are can be following groups of games: 1) educational, training, monitoring, and summarizing; 2) informative, educational, socializing; 3) reproductive, productive, creative; 4) communicative, diagnostic, psychological et.al.