MAX WEBER
by Savannah Cook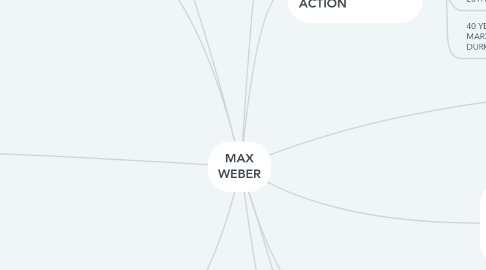 1. SOCIETY AS A RESULT OF SOCIAL ACTION
1.1. MICRO THEORY
1.2. PEAK OF INDUSTRIAL PERIOD IN THE 20TH CENTURY.
1.3. 40 YEARS AFTER MARX AND DURKHEIM
2. RATIONALISATION IS A PROCESS IN MODERN SOCIETY THAT IS CONCERNED WITH
2.1. EFFICENCY
2.2. PREDICTABILITY
2.3. CALCUABILITY
2.4. DEHUMANIZATION
3. DRIVING FORCE TO CHANGE THE WAY SOCIETY IS WORKING
3.1. ECONOMIC
3.2. INSTRUMENTAL
3.3. VALUE
4. ECONMOIC RATIONALISATION
4.1. IS ORGANISATION OF PROCESS TO ENSURE COST EFFECTIVENESS
4.1.1. DIVISION OF LABOR
4.1.2. ECONOMIES OF SCALE
4.1.3. SCIENCE AND TECHNOLOGY
5. INSTRUMENTAL RATIONALISATION
5.1. CALCULABILITY, EXPECTATIONS BASED ON CONSISTENT AND PREDICTABLE OUTCOMES
5.2. RESULTS IN THE LOSS OF EMOTIONS AND BECOME PART OF THE PROCESS
6. EXAMPLES
6.1. VOLKSWAGEN GROUP
6.1.1. SKODA
6.1.2. SEAT
6.1.3. VOLKSWAGEN
6.2. ASOS
6.2.1. COST
6.2.2. DAY ARRIVAL
6.2.3. TIME ARRIVAL
6.3. STEALING A CAR
6.3.1. GOD WILL PUNISH
6.3.2. DETTERNT AND ILLEGAL
7. VALUE RATIONALISATION
7.1. SYSTEMS AND RULES WHICH GUIDE OUR VALUES AND BEHAVIOUR.
7.2. CAPITALIST SOCIETY REQUIRES AND GENERATES DIFFERENT RATIONAL VALUES E.G THE LAW
8. BUREAUCRACY ARISES AS A RESULT OF ECONOMIC RATIONALISATION
8.1. IT PRODUCES PROCESSES AND ADMINISTRATION AND LOTS OF RED TAPE AND PAPER WORK
8.2. IMAGINATION AND INDIVIDUALISATION IS MINIMISED AND OFFICIAL RULES AND REGULATIONS AND PROCEDURES ARE MORE IMPORTANT
8.3. CAR EXAMPLE: TAX, INSURANCE, MOT
9. IRON CAGE AND DISENCHANTMENT
9.1. RATIONALISATION RESULTS IN US FEELING LIKE WEERE TRAPPED IN AN IRON CAGE, PROCESSES AND BUREAUCRACY DOMINATE AND TAKE OVER OUR LIVES.
9.2. DISENCHANTMENT ARISES BECAUSE OF THE IRON CAGE AND AS A RESULT HAS CONSEQUENCES ON INDIVIDUALS AND SOCIETY AS A WHOLE.
9.3. DEHUMANISATION OF INDIVIDUALS WE JUST PERFORM A PROCESS OR AS CUSTOMERS EVERYTHING BECOMES PREDICTABLE AND WE BECOME DISENCHANTED BY THIS.
9.4. APPLE EXAMPLE: SAME INTERIOR, PRODUCTS, UNIFORM IN EVERY STORE AROUND THE WORLD.
10. CRITICISM OF WEBER
10.1. IN MODERN DAY SOCIETY THERE ARE RATIONALISED ORGANISATIONS WITHOUT BUREAURACY
10.2. WEBER IS DETERMINISTIC WHEN TALKING ABOUT IRON CAGE ANS DISENCHANTMENT.
10.3. HE STATES THAT THESE ARE NECESSARY EVILS THAT ARE NEEDED IN CAPITALISM BASED ON HISTORY.
11. COMPARISON TO MARX AND FUNCTIONALISM
11.1. WEBER BELIEVES THAT POLITICAL AND SOCIAL FACTORS ASWELL AS ECONOMIC FACTORS INFLUENCE OUR SOCIAL STATUS GROUPS.
11.2. MARX BELIEVES THAT ECONOMIC FACTORS ONLY INFLUENCE OUR CLASS AND THERE IS A DISTINCT DIVIDE BETWEEN THE RICH AND THE POOR LEADING TO CLASS CONFLICTS.
11.3. WEBER BELIEVES MARX VIEW IS NARROWLY STRUCTURED AND TOO CONCENTRATED ON ECONOMIC FACTORS
11.4. FUNCTIONALISM BELIEVES THAT SOCIAL GROUPS ARE NECESSARY IN SOCITY AND SERVE A FUNCTION BECAUSE THIS ENSURES PEOPLE WORK TO ATTAIN THEIR POSITION AND SOCIAL ORDER IS MAINTAINED.