COGNITIVE INFLUENCES ON LANGUAGE LEARNING
by SOFIA A.M.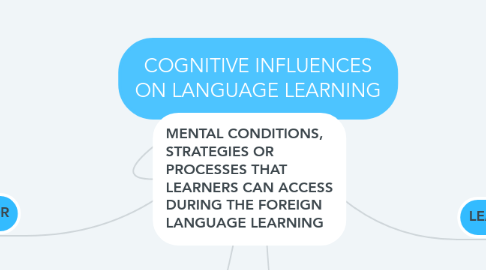 1. INTELLIGENCE THE "G" FACTOR
1.1. INTELLIGENCE MAY INFLUENCE THE ACQUISITION OF SOME SKILLS ASSOCIATED WITH SLA. (Genesse 1976, Ekstrand 1977)
1.2. GARDNER(1985) CLASSIFICATION: LOGICAL MATHEMATIC, LINGUISTIC, SPATIAL, MUSICAL, BODILY KINESTHETIC, INTERPÉRSONAL, INTRAPERSONAL, NATURALISTIC AND SPIRITUAL.
2. LANGUAGE APTITUDE
2.1. APTITUDE IS CONSIDERED TO BE THE NATURAL ABILITY TO LEARN LANGUAGES
2.2. CARROLL AND SAPON 'S CLASSIFICATION OF COMPONENTS IN LANGUAGE APTITUDE: PHONEMIC, GRAMMATICAL SENSITIVITY, INDUCTIVE LANGUAGE LEARNING ABILITY, ROTE LEARNING ABILITY.
3. COGNITIVE STYLE
3.1. THE WAY LEARNER PERCEIVES, MONITORS, CONCEPTUALIZES AND RECALLS LINGUISTIC INFORMATION
3.2. SPECIFIC VARIABLES OF COGNITIVE STYLE CLASSIFICATION BY BROWN (1973): REFLECTIVE-IMPULSIVE-THINKING; LROAD-NARROW-CATEGORIZING; BELIEF-CONGRUENCE-CONTRADICTION.
4. LEARNING STRATEGIES
4.1. DEFINED BY OXFORD AND CROOKALL AS STEPS TAKEN BY LEARNERS TO AID THE ACQUISITION, STORAGE AND RETRIVAL OF INFORMATION (1989)
4.2. TYPES OF STRATEGIES: COGNITIVE, MEMORY, COMPENSATION, METACOGNITIVE, SOCIAL, AFFECTIVE, COMMUNICATION.
5. MENTAL CONDITIONS, STRATEGIES OR PROCESSES THAT LEARNERS CAN ACCESS DURING THE FOREIGN LANGUAGE LEARNING