Preliminary conclusions want to work in 1) analytical/research/writing capacity 2) with team, not alone 3) focus on finance/investments 4) can be in UK, Hong Kong, Penang
by
Michelle Auger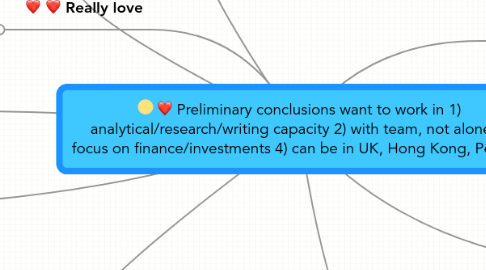 0.0
stars -
0
reviews range from
0
to
5
Preliminary conclusions want to work in 1) analytical/research/writing capacity 2) with team, not alone 3) focus on finance/investments 4) can be in UK, Hong Kong, Penang
Really Dislike
Politics and infighting
Hierachy
NO to Middle east - no respect for the female of the species (Lebanese ok, no arab)
Really love
Languages
People (and esp good looking folks but not models and cheerleaders...)
Communication/interaction
Really Good at...
Telling a story
Doing the research to ensure the integrity of the story
Analysing a situation, understanding it and be able to present it in simple terms
Ideas / what story to tell. What angle to use/ good instincts
What I am like
Test new note
Weird sense of humour
Dance
Where I want to work
London(very short term) max only 2-4 yrs
Hong Kong, France, China (Good french/chinese food) need a place with SOUL
somewhere with discipline, PRIVATE? and where I can make a difference
Retire to?
penang? France? (Paca)
Who i want to work with
Smart people. People who inspire me, whom I can help in turn.
So far, it looks like I want to work in 1) an analytical/research/writing capacity.  
The Bottom Line
ideally $50k fcf pa by the time i'm 50?
£50k pa for next job?
What I want to do
Hybrid of marketing & research/research tempered with commercial edge