CRM
by Anneleen Vandevyver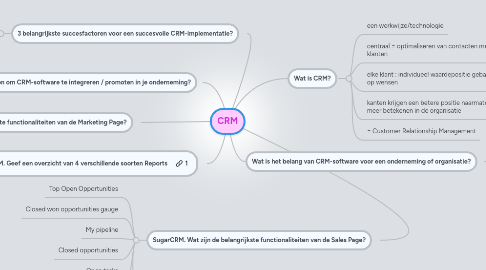 1. Wat is CRM?
1.1. een werkwijze/technologie
1.2. centraal = optimaliseren van contacten met klanten
1.3. elke klant : individueel waardepositie gebaseerd op wensen
1.4. kanten krijgen een betere positie naarmate ze meer betekenen in de organisatie
1.5. = Customer Relationship Management
2. Wat is het belang van CRM-software voor een onderneming of organisatie?
2.1. Effectieve e-CRM infrastructuur : eenduidig beeld van de consumenten
2.2. rapportages over consumentgedrag, consumentinteracties & voorspellen hiervan
2.3. online applicaties die bijdragen aan customer services
2.4. centrale positie in binnen het bedrijf: consumenten optimaal bedienen
2.5. complete gegevens over de consumenten verkrijgen op een makkelijke manier
3. SugarCRM. Wat zijn de belangrijkste functionaliteiten van de Sales Page?
3.1. Top Open Opportunities
3.2. Closed won opportunities gauge
3.3. My pipeline
3.4. Closed opportunities
3.5. Open tasks
3.6. East team pipeline Report
4. SugarCRM. Wat zijn de belangrijkste functionaliteiten van de Marketing Page?
4.1. Leads by lead source
4.2. My Leads
5. SugarCRM. Geef een overzicht van 4 verschillende soorten Reports
5.1. Summation with details
5.2. Matrix
5.3. Rows and columns
5.4. Summation
6. Wat zijn je motieven om CRM-software te integreren / promoten in je onderneming?
6.1. Snel en goed inzicht in belangrijkste producten en leveranciers willen verwerven
6.2. Meerdere gebruikers van het systeem hebben
6.3. Klantgerichter werken
7. 3 belangrijkste succesfactoren voor een succesvolle CRM-implementatie?
7.1. Op voorhand vaststellen wat organisatie wil verbeteren met CRM
7.2. Voorbereiding van medewerkers
7.3. Plan van invoering