Creative ICT - Curriculum Enrichment Week
by jane cooke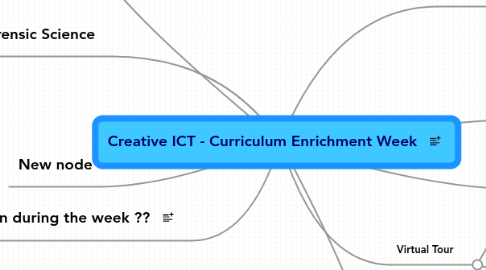 1. Forensic Science
1.1. Murder of Head Teacher
1.2. Investigated by students
1.3. Scene of crime officer
1.4. Arresting officer
1.5. Week Plan
1.5.1. Monday: Applications and training
1.5.2. Tuesday: 1st Crime suspected suicide & hanging
1.5.3. Wednesday: 2nd crime blunt trauma wound Room 45a 3rd crime stabbing in girls changing room
1.5.4. Thursday: Finalising of evidence and arrest of suspect
1.5.5. Friday: Trial
2. CREATE! Creative Learning Bursaries
2.1. In no more than 100 words, please outline the aims of your project
2.2. Who do you intend to use as your creative partner, and how do you imagine this relationship will work as part of your project?
2.3. How will the outcomes of your project be measured and shared?
2.4. In what ways will the project be cross curricular?
2.5. What is the in-kind contribution from your school? This may take the form of time, financial commitment, resources, space or anything else you can think of.
3. Social net to run during the week ??
4. Music composed by the weather sensors KOAN
4.1. Wind speed = Drum rhythm
4.1.1. Temperature, cloud cover as the melody?
4.2. Record with iRivers
4.2.1. work it using audacity, hopefully HMC sound reactive software
4.3. http://www.karbosguide.com/hardware/module7d5.htm
5. New node
6. Virtual Tour
6.1. Chris Mooney
6.2. Interactive tour of school use on web as part of online/virtual prospectus
6.3. Use of GPS coords to highlight areas of the school?
7. Cluedo
7.1. spacehoppers
7.1.1. Colonel Mustard (yellow). Miss Scarlett (red). Professor Plum (purple). Mrs Peacock (blue). The Reverend Green (green). Mrs White (white).
7.1.2. Each student becomes character?
7.1.3. Does the character change colour?
7.1.3.1. Why?
7.1.3.2. How?
7.2. Cluedo board
7.2.1. School Hall
7.2.2. Playground
7.2.3. Lecture theatre
7.3. Visualiser
7.4. Musical notes to represent each character, colour and sound
7.4.1. Electroplankton
8. HMC Interactive
8.1. Space Hoppers
8.1.1. sound reactive, colour change?
8.2. Large coloured balls
9. New node