The Internet and Effective Internet searching!
by Gabby G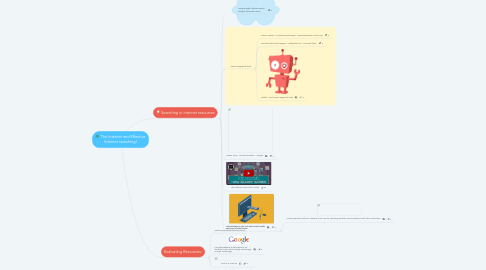 1. Searching in internet resources
1.1. Using Google Advance search : Google Advanced Search
1.2. Search engines for kids:
1.2.1. Kidrex: KidRex - Kid Safe Search Engine - Now powered by Alarms.org
1.2.2. Get Kids Safe Search Engine - WackySafe.com - Microsoft Store
1.2.3. Kiddle - visual search engine for kids
1.3. Lesson Plans – Search Education – Google
1.4. The Internet: How Search Works
1.5. InterestingTIP!: The Top Web Search Tricks Everyone Should Know
1.5.1. Online Research Skills For Students | Five Tips for Teaching Students How to Research and Filter Information
2. Evaluating Resources:
2.1. Teaching our students to be critical.
2.2. Use fake websites to help teacher our students to be critical Google Technology: Google Technology
2.3. Trust It or Trash It?
2.4. The top wed search tricks everyone should know