The Internet and Effective Internet Searching
by Sian Cruse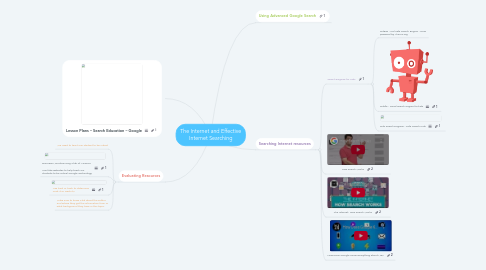 1. Using Advanced Google Search
2. Searching Internet resources
2.1. Search Engines for Kids
2.1.1. KidRex - Kid Safe Search Engine - Now powered by Alarms.org
2.1.2. Kiddle - visual search engine for kids
2.1.3. Kids Search Engines - Safe Search Kids
2.2. How Search Works
2.3. The Internet: How Search Works
2.4. How Does Google Know Everything about Me?
3. Lesson Plans – Search Education – Google
4. Evaluating Resources
4.1. We need to teach our student to be critical
4.2. Burmese Mountain Dog Club of America Use fake websites to help teach our students to be critical Google Technology
4.3. Use trust or trash to determine Trust It or Trash It?
4.4. Make sure to know a bit about the author and where they got the information from or what background they have in this topic.