THE COGNITIVE REVOLUTION
by Daniel Contreras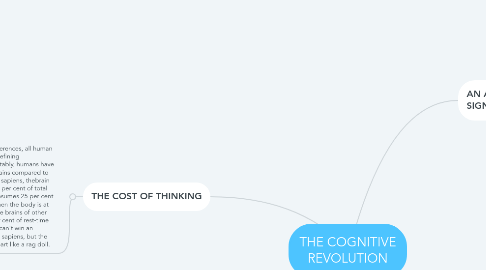 1. AN ANIMAL OF NO SIGNIFICANCE
1.1. Years Beforethe Present 13.5billionMatter and energy appear. Beginning of physics. Atoms and molecules appear.Beginning of chemistry. About 300,000 years after their appearance, matter and energy started to coalesce intocomplex structures, called atoms, which then combined into molecules.About 70,000 years ago, organisms belonging to the species Homo sapiens started to formeven more elaborate structures called cultures. The subsequent development of these humancultures is called history. Homo sapiens long preferred to view itself as set apart from animals,an orphan bereft of family, lacking siblings or cousins, and most importantly, withoutparents.
2. SKELETONS IN THE CLOSET
2.1. We are used to thinking about ourselves as the only humans, because for the last 10,000years, our species has indeed been the only human species around. Humans first evolved in East Africa about 2.5 million years ago from an earlier genus of apes called Australopithecus. Humans in Europe and western Asia evolved into Homo neanderthalensis. The more eastern regions of Asia were populated by Homo erectus. On the island of Java, in Indonesia, lived Homo soloensis.In 2010 another lost sibling was rescued from oblivion, when scientists excavating theDenisova Cave in Siberia discovered a fossilised finger bone. Genetic analysis proved that thefinger belonged to a previously unknown human species, which was named Homo denisova.
3. THE COST OF THINKING
3.1. Despite their many differences, all human species share several defining characteristics. Mostnotably, humans have extraordinarily large brains compared to other animals.In Homo sapiens, thebrain accounts for about 2–3 per cent of total body weight, but it consumes 25 per cent of thebody's energy when the body is at rest. By comparison, the brains of other apes require only 8 per cent of rest-time energy. Achimpanzee can't win an argument with a Homo sapiens, but the ape can rip the man apart like a rag doll.
4. A RACE OF COOKS
4.1. A significant step on the way to the top was the domestication of fire. Humans now had a dependable source of light and warmth, and a deadly weaponagainst prowling lions. But the best thing fire did was cook. Foods that humans cannot digest in their natural forms– such as wheat, rice and potatoes – became staples of our diet thanks to cooking. Whereas chimpanzeesspend five hours a day chewing raw food, a single hour suffices for people eating cookedfood. When humans domesticated fire, they gained control of an obedient and potentiallylimitless force.