MANAGING THE CLASSROOM
by Ana Escobar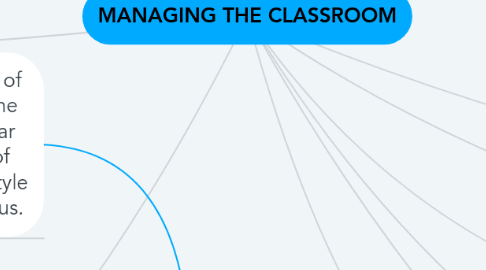 1. Firstly, they should consider the kind of language that students are likely to understand.
2. CLASSROOM MANAGEMENT
3. To manage the classrooms effectively, these aspects must be taken into account: How the classroom space is organised, whether the students are working on their own or in groups and how we organise classroom time. We also need to consider how we appear to the students, and how we use our most valuable asset: our voice.
4. TEACHER IN THE CLASSROOM
5. Our physical presence can play a large part in our management of the classroom environment. The way we move and stand, and the degree to which we are physically demonstrative can have a clear effect on the management of the class.But there are a number of issues to consider which are not just matters of personality or style and which have a direct bearing on the students' perception of us.
6. PROXIMITY.
7. APPROPIATY.
8. Teachers should consider how close they should be to the students they are working with. Some students feel uncomfortable when their teacher is close to them.
9. Deciding how close to the students you should be when you work with them is a matter of appropriacy. All the positions teachers take, make strong statements about the kind of person the teacher is. It is important, therefore, to consider what kind of effect such physical behaviour has so that we can behave in a way which is appropriate to the students we are teaching and the relationship we wish to create with them.
10. MOVEMENT.
11. Some teachers tend to spend most of their class time in one place, Others spend a great deal of time walking from side to side, or striding up and down the aisles between the chairs. Most successful teachers move around the classroom to some extent.
12. AWARENESS
13. To manage a class successfully, the teacher must know how his students feel. But if we keep too much distance, it will be difficult for us to perceive the success or failure of what is happening in the classroom, and we must be flexible to respond to what is happening.
14. USING THE VOICE
15. Perhaps our most important instrument as teachers is our voice. When considering the use of the voice in the management of teaching, there are three issues to think about.
16. Teachers need to be audible. They must be sure that the students at the back of the class can hear them just as well as those at the front.
17. AUDIBILITY
18. VARIETY
19. Teachers should vary the quality of their voices and volume, the type of voice we use to give instructions has to be different to establish a conversation.
20. CONSERVATION.
21. Teachers must take great care of their voice, it is important that they breathe correctly so that they don't strain their larynxes and and avoid the screams.
22. TALKING TO STUDENTS.
23. The way that teachers talk to students the manner in which they interact with them is one of the crucial teacher skills. In order to rough-tune their language, teachers need to be aware of three things.
24. Secondly, they need to think about what they wish to say to the students and how best to do it.
25. Thirdly, they need to consider the manner in which they will speak (in terms of intonation, tone of voice, etc).
26. GIVING INSTRUCTIONS.
27. This issue of how to talk to students becomes crucial when we give them instructions. When teachers give instructions, it is important for them to check that the students have understood what they are being asked to do. This can be achieved either by asking a student to explain the activity after the teacher has given the instruction or by getting someone to show the other people in the class how the exercise works.
28. The excessive use of TTT is inappropriate because the more a teacher talks the less chance there is for the students to practice their own speaking and it is the students who need the practice, not the teacher. That's why a good teacher maximizes STT and minimizes TTT.
29. STUDENT TALK AND TEACHER TALK.
30. All English students come in the classroom with at least one other language. The question is; It is appropriate for them to use the L1 in class, when their main objective is to learn an L2. For that reason, it is advisable for teachers to use English as often as possible.
31. USING THE L1.
32. CREATING LESSON STAGES
33. 1.Begin the lesson, awakening the interest of the students. 2.Inform students of what they will do. 3.When an activity has finished and/or another one is about to start, it helps if teachers make this clear through the way they behave and the things they say. 4.When we have brought an activity or a lesson to a finish, it helps if we provide some kind of closure: a summary of what has happened, perhaps, or a prediction of what will take place in the next lesson.
34. DIFFERENT SEATING ARRANGEMENTS.
35. ORDERLY ROWS.
36. Having the students sit in rows can appear somewhat restrictive, but there are advantages, the teacher has a clear view of all the students and the students can all see the teacher in whose direction they are facing. It makes lecturing easier, enabling the teacher to maintain eye contact with the people he or she is talking to.
37. CIRCLES AND HORSESHOES.
38. In smaller classes, many teachers and students prefer circles or horseshoes. In a horseshoe, the teacher will probably be at the open end of the arrangement since that may well be where the board, overhead projector and/or computer are situated. In a circle, the teacher's position where the board is situated is less dominating.
39. SEPARATE TABLES.
40. Even circles and horseshoes seem rather formal compared to classes where students are seated in small groups at individual tables. In such classrooms, you might see the teacher walking around checking the students' work and helping out if they are having difficulties.
41. CREATING LESSON STAGES
42. WHOLE CLASS
43. There are many occasions when the best type of classroom organization is a teacher working with the class as a whole group. This is useful for presenting information and for controlled practice (such as repetition and drilling) which is often used, especially at lower levels.b
44. GROUPWORK AND PAIRWORK
45. Groupwork and pairwork have been popular in language teaching for many years and have many advantages. They both foster cooperative activity in that the students involved work together to complete a task
46. SOLOWORK
47. This can have many advantages: it allows students to work at their own speed, allows them thinking time, and allows them to be individuals.
48. CLASS-TO-CLASS
49. One last grouping should be mentioned, and that is when we are able to join two classes so that they can interact with each other. Where different-level classes are concerned, higher- level students often feel positive about being able to help students from other classes, just as lower-level students can feel motivated by being able to engage with people whose language is better than theirs.