Staging of Immediate MD Portals Rollout
by Omar Salah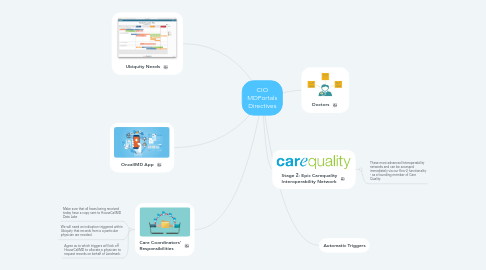 1. Immediate Objective for Health Record Collection for Landmark Health
1.1. We want to Get going now with the parts HouseCallMD has available.
1.2. Outsourcing the Record Collection bureaucracy: Increased productivity of clinicians
1.2.1. Multi-level SLA structure
1.2.2. Service Level Management defining who responsible for ensuring that all service management processes, operational level agreements, and underpinning contracts, are appropriate for the agreed-upon service level targets
1.3. Provide immediate HCC/ clinical summary for external records
1.3.1. facilitate getting all patient data into HouseCallMD funnel regardless the transport used.
1.4. Summarized patient data appended to patient in Ubiquity
1.4.1. Unified Medical Record
1.4.2. HCC Summary (as PDF)
1.5. Agree on Triggers that will initiative record collection for any particular patient,
2. What is bare minimum we need IT leadership help with now
2.1. Patient ID/ Demographics to be provided
2.2. Agree on how to best append information to Ubiquity C-CDA tab
2.3. We will append CDAs and PDFs
2.4. HTML C-CDA within Ubiquity (with ability to search for ASCII text)
3. Sequence Roll-Out with IT Product Roadmap
3.1. Roll-back any transport mechanism that is planned to be in-house.
3.2. Regardless if clinical information is being delivered through MD Portals or Ubiquity transport/ copy of all clinical data to always be sent to our Data Lake.
3.3. As soon as Landmark builds its own pipes we will provide a rebate to whatever components we can retire in order to make way for Ubiquity's functionality
3.4. We understand that IT plans to implement all stages below - we will work to coordinate overlap as well as a continuous consolidation
4. Stage 1: HIEs
4.1. We need IT to Avail HIE Subscription Agreements so we can query exchanges for new data now
4.2. Let's get these voluminous records now: we'll summarize them, unify them, and make available to physician on Ubiquity
4.3. HIE ADT alerts used to get us to jump into action
4.4. Verato EMPI will link all underlying patient data to Ubiquity
4.5. We are performing Multiple HIE synchronization to maintain a unified patient records not something Landmark IT is expected to need to do
5. Stage 2: Epic Carequality Interoperability Network
5.1. These most advanced Interoperability networks and can be accessed immediately via our Kno-2 functionality - as a founding member of Care Quality.
6. Stage 3: Faxed medical records
6.1. Make sure that all faxes being received today have a copy sent to HouseCallMD Data Lake
6.2. We will need an indication triggered within Ubiquity that records from a a particular physician are needed.
6.3. Agree as to which triggers will kick off HouseCallMD to allocate a physician to request records on behalf of Landmark.
7. Stage 5: Patient Portal Records
7.1. Utilize Patient Portal now in order to facilitate pulling in medical records from patients.
7.1.1. Pull in data from patient portals of Radiology
7.1.2. Pull in patient-sourced medical data
7.2. Phase out MyPortal Patient Portal as soon as IT department have launched their own
8. Stage 4: Direct Messages
8.1. We will make addresses available for every Landmark Office
8.2. If providers use DM within Ubiquity please make sure that we get a copy of every clinical payload
8.3. Physicians requesting records can send us direct messages listing patient name and physician they need the records from.