Professional Development- Build Capacity Collaboration is KEY not only for Students but for Teachers TOO!
by Breanna Ryberg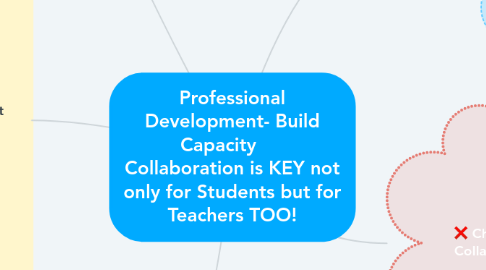 1. MOST IMPORTANTLY: Get to know the teachers around you. Some teachers may love Webinars, some may love book clubs. Others listening to speeches. Or just brainstorming together about how to handle life in and out of the classroom!
2. Benefits of Collaboration Among Teachers
2.1. Increased Academic Effort/Rigor
2.2. Increased Understanding of Student Data
2.2.1. Shared Responsibility for analyzing failure and celebrating successes
2.3. More creative Lesson Plans
2.3.1. Work SMARTER, not HARDER
2.3.2. Did you know Kagan Strategies apply to teachers too!?
2.4. Less Teacher Isolation
2.4.1. Happy teachers. Happy Life!
2.4.2. Teachers need that sense of belonging just as much as our students do!
3. Challenges of Effective Collaboration
3.1. Lack of Professional Learning Communities (PLCs)
3.2. Lack of Planning, collaboration, or reflection
3.2.1. TIME!!
3.3. Personal conflicts
3.3.1. Hard to connect and want to help those you have felt burned by
4. How to Build Collaboration Amongst teachers
4.1. Try Co-Teaching
4.2. Encourage teachers to Learn together
4.2.1. Book Studies
4.2.2. Watch and Reflect on Webinars
4.3. Build sense of Community with Teachers
4.3.1. Minute to Win It Games to break the ice
4.3.2. Establish Group Norms & Expectations
4.3.3. Develop and Agree upon shared vision and mutual goals
5. Now wait... What does all that look like?
5.1. Encourage teachers to build their PLNs Collaboration can and should happen beyond the school and the district
5.1.1. Twitter
5.1.2. Pinterest
5.1.3. Facebook
5.1.4. Blogs
5.2. Bring Keynote Speakers to District or Watch Speeches together! Also leads into great ways to incorporate book studies with staff! These are a few I have seen!
5.2.1. Ditch That Textbook! by Matt Miller Bringing in engaging activities to teach
5.2.2. Adam Welcome
5.2.3. Dr. Bryan Pearman Whatever it Takes (Trauma Informed Training) #maslowbeforebloom
5.3. Create Mentor/Mentee Programs
5.3.1. Celebrate veteran teachers and build relationships with new teachers
5.4. Focus on Quality not Quantity of PLCs