Three billboards outside ebbing missouri
by Laura Sofia Donato Cortes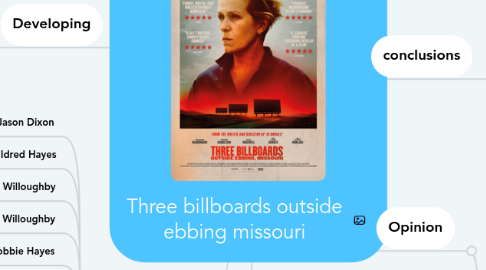 1. Developing
1.1. When Martin McDonagh wrote "Three billboards outside of Ebbing Missouri," he wanted to show the power of strong women through this story, which tells us about the rape and murder of a young girl in the village of Ebbing, and how her mother (Mildred) divorced and housewife, does everything possible to do justice to the death of her daughter, Mildred does not care what happens with herself, she just wants to fulfill her goal.
2. Characters
2.1. Jason Dixon
2.1.1. Sam Rockwell
2.2. Mildred Hayes
2.2.1. Frances McDormand
2.3. 'Bill' Willoughby
2.3.1. Woody Harrelson
2.4. Anne Willoughby
2.4.1. Abbie Cornish
2.5. Robbie Hayes
2.5.1. Lucas Hedges
2.6. Red Welby
2.6.1. Caleb Landry Jones
2.7. Chief Abercrombie
2.7.1. Clarke Peters
2.8. Penelope
2.8.1. Samara Weaving
2.9. Charlie Hayes
2.9.1. John Hawkes
2.10. James
2.10.1. Peter Dinklage
2.11. Pamela
2.11.1. Kerry Condon
2.12. Angela Hayes
2.12.1. Kathryn Newton
3. Opinion
3.1. I liked this movie because although it is a fictional story, it develops properly human characteristics, so much so that it seems like a real story. besides this, it seems very important to note that the characters are very different from each other, their behaviors in front of some situations are also different and it is something that I think it is important to take into account, the fact that we are all different and we react in different ways before the various situations.
4. Settings
4.1. United States
4.1.1. Town of Ebbing, Missouri
4.1.1.1. Police station.
4.1.1.2. Restaurant
4.1.1.3. Willoughby's house
4.1.1.4. Mildred's house
4.1.1.5. Pub
4.1.1.6. Souvenirs Store
5. conclusions
5.1. Mildred Hayes wanted to keep the hope to do justice so she put up the billboards.
5.2. The situation generated great controversy between the authorities and the few people who supported the cause.
5.3. In spite of that, thanks to the persistence of Mildred, she managed to move people who did not support her in her struggle.
5.4. The crime apparently is not resolved.
6. Author
6.1. Martin Faranan McDonagh
6.1.1. He is an Irish-British playwright, screenwriter, producer, and director.
7. Themes
7.1. Death, revenge, despair, uncertainty, pain, hate, injustice, resentment, hope, love, feminine power, racism, loneliness, sadness, machismo