PRICING INFORMATION
by Tia James Ana Zuleta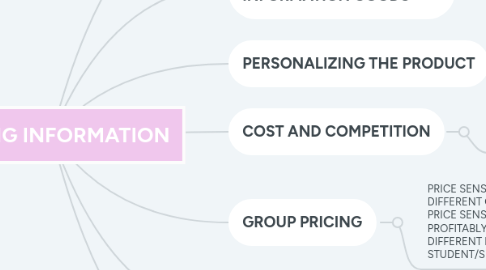 1. COST OF PRODUCTION GOOD
1.1. INFORMATION PRODUCTS ARE EXPENSIVE TO PRODUCE, BUT VERY CHEAP TO REPRODUCE
1.1.1. ONCE FIRST COPY IS MADE, IT COSTS CLOSE TO NOTHING TO REPRODUCE
1.1.1.1. PRODUCING INFORMATION GOODS IS A SUNK COST. THIS MEANS NO COSTS CAN BE RECOVERED IF PRODUCTION IS HALTED OR FAILED.
2. MARKET STRUCTURES FOR INFORMATION GOODS
2.1. DOMINANT FIRM: HAS DOMINANCE OVER SMALLER RIVALS. EXAMPLE: MICROSOFT.
2.1.1. DIFFERENTIATED PRODUCT MARKET: PRODUCING SIMILAR INFORMATION WITH SOME VARIETY. EXAMPLE: TELEVISION AND FILM
3. PERSONALIZING THE PRODUCT
3.1. OBSERVE CUSTOMERS ONLINE BEHAVIOR
3.1.1. KNOW YOUR CUSTOMER
3.1.1.1. MAKE YOUR PRODUCT DIFFERENTIATE FROM SIMILAR PRODUCTS
3.1.1.1.1. MAKE SURE PRODUCT IS NOT A COMMODITY
4. COST AND COMPETITION
4.1. MANY SUPPLIERS ARE OFFERING A SIMILAR PRODUCT
4.1.1. EACH SUPPLIER LACKS ABILITY TO INFLUENCE PRIDES
4.1.1.1. CASES OF "INFORMATION AUCTIONS"
4.1.1.1.1. INFORMATION GETS SOLD TO THE HIGHEST BIDDER
5. GROUP PRICING
5.1. PRICE SENSITIVITY: IF MEMBERS OF DIFFERENT GROUPS OFFER DIFFERENT PRICE SENSITIVITY, YOU CAN PROFITABLY OFFER DIFFERENT GROUPS DIFFERENT PRICES. EX. STUDENT/SENIOR DISCCOUNTS
5.1.1. SHARING: IN MOST CASES IT IS INCONVEINENT FOR INDIVIDUALS TO MANAGE AND ORGANIZE ALL INFORMATION GOODS THEY WANT TO CONSUME EX. PUBLIC LIBRARY
5.1.1.1. NETWORK EFFECT: AN INDIVIDUALS VALUE OF A PRODUCT ON HOW MANY OTHER MEMBERS OF THE GROUP ARE USING IT. THE MORE MEMBERS THAT USE IT THE HIGHER THE VALUE EX. MICROSOFT
5.1.1.1.1. LOCK IN: WHEN AN ORGANIZATION DECIDES TO STANDARDIZE A PARTICULAR PRODUCT MAKING IT EXPENSIVE TO REPLACE OR NEED OF RETRAINING EX. MICROSOFT
6. PROMOTIONS
6.1. ALLOWS MEASUREMENT FOR DEMAND OF THE PRODUCT
6.1.1. USED AS AN ESTIMATE FOR PRICE SENSITIVITY
6.1.1.1. SENDS OFFERS TO PREEXISTING CUSTOMERS
6.1.1.1.1. MOSTLY USED WITH ONLINE PLATFORMS
7. COST LEADERSHIP
7.1. ESTABLISH EARLY PRESENCE IN MARKET
7.1.1. CHEAP TO REPRODUCE INFORMATION GOODS
7.1.1.1. IF YOU CAN'T DIFFERENTIATE YOURSELF, SELL YOUR PRODUCT AT A LOWER COST