8 STEPS FOR THE SUCCESS OF A MARKETING PLAN
by Katherine Gonzalez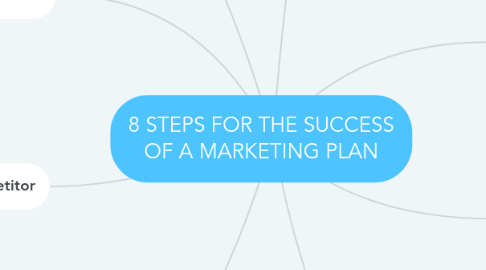 1. 1. Explore
1.1. Explored a variety of ideas and plans.
1.2. Explore the current trends
1.3. Explore the future expectations
1.4. Explore the government involvement
1.5. Explore the major changes
1.6. Explore the technological advancement
1.7. Explore your surroundings to be sure of the background of the marketing plan
2. 2. Analyse your customers
2.1. Your customers are your best consultants
2.2. Ask questions to your own customers and you will get the best answers and the best advice possible
2.3. NOT listening to your customers is a sure shot
3. 3. Analyse your competitor
3.1. Who are your competitors and what are they doing to attract customers?
3.2. Need to know which features among those are the most prominent in customers mind
3.3. You need to target the same features from a different angle
3.4. You need to know your customers and your competitors as well as the market scenario
4. 4. Analyse yourself
4.1. Your overall strategy will depend on where you stand in the market
4.1.1. If you are the number 1, you need to think of retention strategies
4.1.2. Whereas if you are number 4, you need to think of customer acquisition strategies
4.2. The marketing plan changes as you analyse yourself
4.3. At this stage you need to decide what is your budget,
4.4. Whether you have the capacity to go ATL or not or whether there is a need of price promotions
4.5. How many man hours can you dedicate to this campaign
5. 5. Prepare your marketing plan
5.1. The best step over here is to hire a marketing consultant
5.1.1. Ad agency as required
5.2. You decide your long term term strategy
5.3. You decide your short term strategy
5.4. You need to decide what kind of promotions you will be using
5.5. Thus you need to anticipate the events coming up
5.6. Document your marketing plan. It helps in measuring the performance
6. 6. Implement
6.1. Contingency plans are used when your strategy is not received in the market
6.2. Be in touch with the market as well as people involved and anticipate any negativities as well as capitalize on any positives which develop during implementation
7. 7. Follow up
7.1. What is the reaction of your customers?
7.2. Are they satisfied with it, or was it a disappointment to them?
7.3. Follow up need not be too complicated
7.4. The feedback is simply seen in the increase in number of walkins
8. 8. Explore other opportunities
8.1. The more the competition, the more you need to find new opportunities in the market
8.2. Your customers do not expect the same things again and again from you