Teaching Cycle
by Tina Beatrice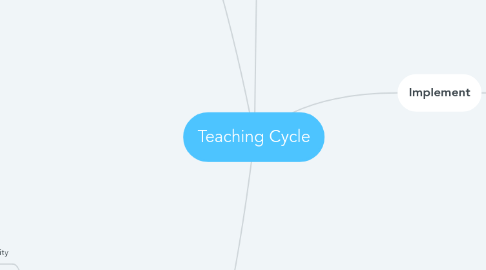 1. Planning
1.1. Teaching approach and processes
1.1.1. Students to be involved and how i.e. in groups?
1.1.2. What resources are required to achieve learning objective
1.1.3. Behaviour management plan/instructional techniques
1.1.4. Lesson structure i.e. timing and content
1.1.5. Self-awareness of teaching style
1.1.6. Plan for the 5E's
1.1.7. Assessment methods
1.1.8. Cue to start to make learning exciting
1.2. Environment
1.2.1. Positive physical learning environment i.e. seating, room structure, engaging
1.2.2. Positive psychological learning environment i.e. class values
1.2.3. Classroom look and feel/aesthetics
1.2.4. Teaching space
1.3. Learning content
1.3.1. Understanding of student's prior knowledge
1.3.2. Lesson objectives in line with Australian Curriculum
1.3.3. Learning objective
1.3.4. Explore opportunities for cross-disciplinary learning
1.4. Products/equipment
1.4.1. Excursions
1.4.2. Exploring learning through incursions
1.4.3. Resources or equipment required for learning
2. Implement
2.1. Structure and resources
2.1.1. Cue to start
2.1.2. Time management for lesson
2.1.3. Questions to prompt learning
2.1.4. End with lesson recap and reflection
2.1.5. Link lesson with previously learnt content
2.1.6. Explain what the next lesson will be
2.1.7. Explain context and importance of content being learnt
2.1.8. Resources and classroom pre-prepared to maximise learning time
2.1.9. Adapt the lesson to lead by the student's interests
2.2. Environment and relationships
2.2.1. Assist students who need help
2.2.2. Keep student's interest
2.2.3. Continue to develop strong relationships with students
2.2.4. Keep students on task
2.2.5. Maintain positive learning environment
2.2.6. Lead by the student's interests
3. Evaluate
3.1. Teacher
3.1.1. Embed learning for future lesson planning
3.1.2. Were the objectives met?
3.1.3. Marking students' work
3.1.4. How was the lesson pacing?
3.1.5. Reflect on teaching strategies
3.2. Student
3.2.1. Were the student learning outcomes achieved?
3.2.2. Encouraging students to self-reflect/evaluate
3.2.3. Did the student understand the content taught?
3.3. Curriculum
3.3.1. Lesson content suitability for student learning of content
3.3.2. Were the resources appropriate to aid in learning?
4. Knowledge
4.1. School and community
4.1.1. Classroom resources
4.1.2. Size of school and classes
4.1.3. Local facilities
4.1.4. Teaching and support staff
4.1.5. School values and beliefs
4.1.6. School structure
4.1.7. School social-economic category
4.1.8. Diversity
4.1.9. Regulations and laws
4.2. Australian Curriculum (ACARA)
4.2.1. Content per year level
4.2.2. 7x General capabilities
4.2.3. 8x Learning areas
4.2.4. 4x Cross-curriculum priorities
4.2.5. Pedagogy principles
4.2.6. Regulations and laws
4.3. Students
4.3.1. Status information
4.3.1.1. Demographic info i.e. age, gender, family background
4.3.1.2. Test scores i.e. NAPLAN
4.3.2. Action information
4.3.2.1. Social-emotional development
4.3.2.2. Interests
4.3.2.3. Learning styles
4.3.2.4. Parent info
4.3.2.5. Spiritual standing
4.4. Me as a teacher
4.4.1. Humour
4.4.2. Self-awareness
4.4.3. Behaviour management style
4.4.4. Teaching style