Magazine in USА and in Russia
by Анастасия Иванова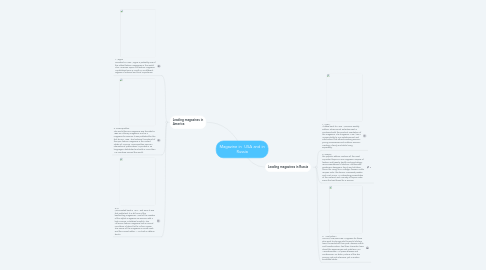 1. Leading magazines in America
1.1. 1.Vogue Founded in 1892, Vogue is probably one of the oldest fashion magazines in the world. This American super cult fashion magazine is published once a month in 23 different regions of national and local importance.
1.2. 2. Cosmopolitan. This world-famous magazine was founded in 1886 as a literary magazine, and as a magazine for women it was published for the first time in 1965. The historical homeland of this epic fashion magazine is the United States of America. Cosmopolitan owns 64 international publications, is printed in 35 languages, distributed and sold in more than 110 countries around the world.
1.3. 3.W. Was created back in 1971, and since it was first published, it is still one of the best-selling magazines. Most of the readers of this stylish magazine are women with a high income. Published monthly. This American fashion magazine has an annual circulation of about half a million copies. The owner of the magazine is condé Nast, and the current editor — in-chief is Stefano tonchi
2. Leading magazines in Russia
2.1. 1."Lisa". It dates back to 1995. Women's weekly edition, where smart entertainment is combined with the practical orientation of the magazine. The magazine "Lisa" has a unique ability to mix entertainment and information that attracts working women, young Housewives and mothers, women, creating a family and while living separately.
2.2. 2."Darya". the popular edition contains all the most important topics in one magazine: recipes of fashion and beauty, health and psychology, recommendations of doctors, nutritionists, gardeners, designers, family and children, home life, Feng Shui, cottage, flowers, crafts, recipes, Pets, life stories, crossword puzzles and much more. An interesting presentation of the material and a variety of topics make Daria the best friend for a woman.
2.3. 3. " Only stars " YELLOW NEWSPAPER. Magazine for those who want to plunge into the world of stars, learn the secrets of their past, discuss outfits and transformation, feel their character, learn about the experiences and problems. No "sensationalism" of press releases and conferences, no static, picture of the star posing, just real interview, just a random emotional shots.