ENGLISH HISTORY
by Ilenia Maglio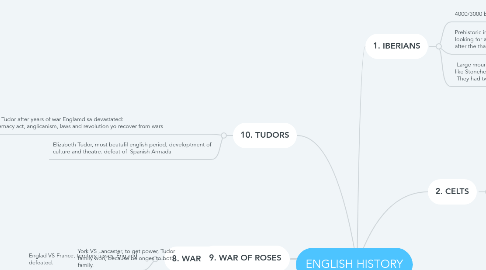 1. 8. WAR OF THE HUNDREDS
1.1. Englad VS France, territory iusses, England defeated.
2. 3. ROMANS
2.1. 55 b. C.-400/500 a. D., from Rome
2.2. stone buildings, heaig with terme, deforastation. they built streets: civitates, coloniae and municipiae.
3. 4. ANGLO-SAXONS
3.1. 400/500-800 a. D., from North Sea Region
3.2. Sociey founded on loyalty to the family and clan. Hall place were they swore loyalty. Farmers. Pagan values.
4. 1. IBERIANS
4.1. 4000/3000 b. C., South west England
4.2. Prehistoric inhabitans of England,they came looking for amber from Iberian Peninsula after the thaw.
4.3. -Large mound graves and beaker -Henges, made bywood and stone, like Stonehenge and -Circular village with a gallery all around it -They had two streets
5. 2. CELTS
5.1. 500-100 b. C., Suth west England
5.2. From North-West Germany -Tall and muscular, fair skin, blue eyes and blonde hair. -Farmers, hunters, fishermen and metal workers.
5.3. they had the celtic horoscope, they are famous beacause of they knots. They are remembered for Halloween, a pagan festival. They didn't have language but they drew runes.
5.4. Hill forts on top of the hills, as tribal centre and refuges in time of danger
5.5. Women equal to men, like Boadicea Druids were Celts' preist, not only in religion but also in justuce, education and medicine.
6. 5. DANES
6.1. 800-1066, from Scandinavia
6.2. Looked for treasures, cattle and slaves. Invasion became Occupation.
7. 6. PLANTAGENT DYNASTY
7.1. Henry II, most powerful king, from Scottish border to South France. Warrior king and chivalric hero. Constitutions of Clarendon: the king was seupreme in civil matters and that all people were subject to the crown.
8. 7. MAGNA CARTA
8.1. John Lackland, firmed the Magna Carta, asked by barons, and was born the parliament.
9. 9. WAR OF ROSES
9.1. York VS Lancaster, to get power, Tudor family won, because belonges to both family.
10. 10. TUDORS
10.1. Henry Tudor after years of war Englamd sa devastated: -Supremacy act, anglicanism, laws and revolution yo recover from wars
10.2. Elizabeth Tudor, most beatufil english period, developtment of culture and theatre. defeat of Spanish Armada