SEVEN FALLEN FEATHERS
by Gallia Breslavsky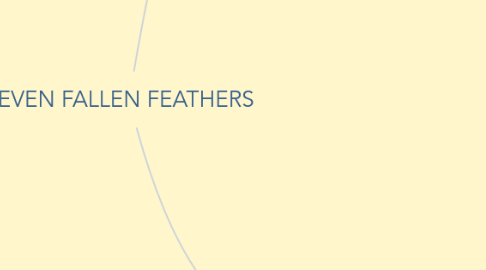 1. WHAT I KNEW BEFORE READING THE BOOK
1.1. I HAD GENERAL KNOWLEDGE ABOUT DISCRIMINATION AGAINST INDIGENOUS PEOPLES
1.2. I HAD GENERAL KNOWLEDGE ABOUT HIGH CRIME RATES WITHIN INDIGENOUS COMMUNITIES
1.3. I HAD GENERAL KNOWLEDGE ABOUT MISSING INDIGENOUS TEENAGERS AND WOMEN , NAMELY FROM READING THE NEWS.
1.4. I HAD KNOWLEDGE OF THE RESIDENTIAL SCHOOL SYSTEM FROM WHAT I ACQUIRED IN THE COURSE AND THE RESOURCES IT PROVIDED ME WITH
2. WHAT I KNOW AFTER READING THE BOOK
2.1. I KNOW THAT DISCRIMINATION AGAINST INDIGENOUS PEOPLE HAVE OLD AND LONG-WITHSTANDING ROOTS
2.2. I KNOW THAT DISCRIMINATION AGAINST INDIGENOUS PEOPLE HEAVILY INFLUENCED LAW ENFORCEMENT OFFICIALS IN THEIR JUDGEMENT IN CASES THAT INVOLVED INDIGENOUS PEOPLE.
2.2.1. MANY LIVES WERE RUINED
2.2.2. MANY FAMILIES BROKEN
2.2.3. JUSTICE DID NOT PREVAIL
2.2.4. MANY LOST FAITH IN THE JUSTICE SYSTEM
2.3. I KNOW THAT THIS KIND OF DISCRIMINATION STILL PREVAILS IN MANY PARTS OF CANADA AND OFFICIALS
2.4. I KNOW LEGAL ACTIONS WERE TAKEN IN ORDER TO ENSURE BIAS AGAINST INDIGENOUS PEOPLE IS REDUCED TO NONE. LEVELS OF SUCCESS ARE STILL UNACCOUNTED FOR
2.5. I KNOW THE NAMES OF THE FALLEN CHILDREN AND THEIR FAMILIES.
2.5.1. I AM EMOTIONALLY MORE ENGAGED
2.5.1.1. MORE PRONE TO ACTION AND LEARNING
2.6. I KNOW THE NAMES OF PEOPLE WHO SURVIVED OR DIDN'T THE RESIDENTIAL SCHOOL SYSTEM AND THEIR STORIES
2.6.1. THE THEORY HAS BEEN PERSONALIZED
2.6.1.1. MORE PRONE TO ACTION AND LEARNING
2.7. I KNOW THAT THE BAD STATISTICS, THE CRIME RATES AND GAP IN EDUCATION ARE DUE TO A CONSISTENT ,DELIBERATE AND LONG POLICY OF EXTINGUISHING THE INDIGENOUS PEOPLE'S CULTURE AND WAY OF LIFE
2.7.1. IT IS VERY CLEAR TO ME THAT RECONCILIATION SHOULD INVOLVE GREAT AMOUNT OF MONEY TO TRY AND HEAL THE TRAUMA