Critical Thinking for Middle School Mathematics
by Jeanne Gaudreault Schiebel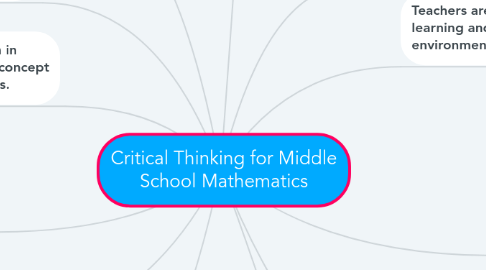 1. Learners analyze, evaluate info. interpreting/synthesizing/apply-ing; to form argument, solve a problem or reach a conclusion.
2. Teachers teach through questioning and teach students to develop own questions.
3. Teachers scaffold problem solving to promote critical thinking skills.
4. Students can brainstorm in graphic organizers, like concept maps and Venn diagrams.
5. Teachers are the archtiects for learning and design an environment for inquiring minds.
6. Teachers model critical math thinking skills out-loud, as they work through a math problem and teach students to do the same.
7. Teachers can inspire students through thematic units and connect this with the arts.
7.1. Students need critical thinking skills to solve word problems, to break down word problems on the FSA Standardized Test.
8. Students can use Google Slides, PowToon, Powerpoint, Edpuzzle and Flip Grid to show what they've learned.
9. Students can use Screencast-o-Matic to create a reteach video, once they have mastered a math topic or concept.
10. Just because we are math teachers, doesn't mean we don't have students do projects and become creative. We have to move from the lecture base classroom to where the students are allowed to talk and share ideas.
11. Teachers must teach critical thinking skills, because in the future our students will have to solve problems that we presently can not even conceptualize.
12. When students collaborate in groups for a project, they should be assigned learner roles; like task definer, strategist, monitor and challenger. This will prepare them for collaboration in the work force.
13. Teachers
14. Students