ACCOUNTING
by laura nataly urregoreyes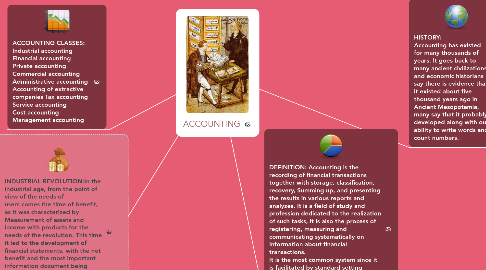 1. DEFINITION: Accounting is the recording of financial transactions together with storage, classification, recovery, Summing up, and presenting the results in various reports and analyzes. It is a field of study and profession dedicated to the realization of such tasks, it is also the process of registering, measuring and communicating systematically on Information about financial transactions. It is the most common system since it is facilitated by standard setting accounting organizations, such as the Financial Accounting Standards Board (FASB).
2. HISTORY: Accounting has existed for many thousands of years. It goes back to many ancient civilizations and economic historians say there is evidence that it existed about five thousand years ago in Ancient Mesopotamia, many say that it probably developed along with our ability to write words and count numbers.
3. INDUSTRIAL REVOLUTION:In the industrial age, from the point of view of the needs of users comes the time of benefit, as it was characterized by Measurement of assets and income with products for the needs of the revolution. This time it led to the development of financial statements, with the net benefit and the most important information document being prepared for both internal and external users.
4. ACCOUNTING CLASSES: Industrial accounting Financial accounting Private accounting Commercial accounting Administrative accounting Accounting of extractive companies Tax accounting Service accounting Cost accounting Management accounting