Pre Assessment. Show the Amnesty International Video about Refugees. Pause and explain some of the harder points. After give the students a 15 basic question quiz, some open minded some multiple choice.
by Adam Proctor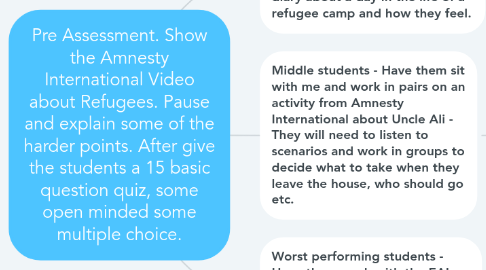 1. Best achieving students - They will go on to watch a further video explaining life in a Refugee camp. Have them complete a diary about a day in the life of a refugee camp and how they feel.
1.1. Students should produce a diary at the end of the class. They can then read them to other students in the class.
2. Middle students - Have them sit with me and work in pairs on an activity from Amnesty International about Uncle Ali - They will need to listen to scenarios and work in groups to decide what to take when they leave the house, who should go etc.
2.1. Students will be filling out the Uncle Ali worksheets and explain the scenario they were put in to the class and what they decided to do.
3. Worst performing students - Have them work with the EAL teacher to work on their vocabulary and basic understanding of what a migrant and a refugee is.
3.1. Students will explain to the front of the class what a migrant and refugee are. Those suspected of special needs will be passed onto the Special Education Department by email.