Red Cliff Band of Lake Superior Chippewa Indians
by Molly Mocogni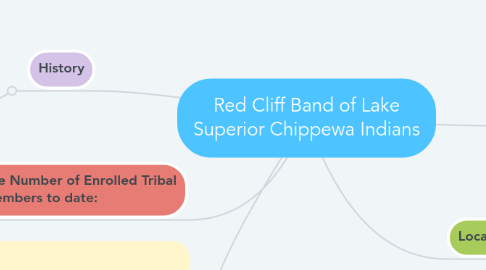 1. Culture
1.1. The Red Cliff Reservation was created through a series of treaties between the U.S. Government and the Red Cliff Band of Lake Superior Chippewa Indians.
2. Location
2.1. The reservation if approximately one mile wide and 14 miles long, located at the top of the Bayfield Peninsula, on the shores of Lake Superior in northern Wisconsin.
2.1.1. The village of Red Cliff, the location of tribal offices and business, is three miles north of Bayfield Wisconsin, a popular tourist community adjacent to the Apostle Islands National Lakeshore.
3. The Number of Enrolled Tribal Members to date:
3.1. •1254 On-Reservation (Bayfield County) •529 Off-Reservation (Bayfield County) •1783 Total in Bayfield County •5238 Off-reservation (Non Bayfield County) •7021 Total Enrolled (Living) Tribal Members
4. History
4.1. In 1854, the Commissioner of Indian Affairs arranged a treaty council in an attempt to get the Chippewa Indians to give their titles to certain pieces of land on Lake Superior.
4.1.1. They convened in the town of La Pointe on Madeline Island after several Ojibew chiefs responded to the call.
4.1.1.1. The founder of the Red Cliff reservation was Chief Buffalo. In 1856, so many supporters traveled with him to the treaty council where an executive order created a Reservation for his followers who had decided to stay from the council.
5. Tribal Sovereignty
5.1. The Red Cliff Reservation is governed by an elected nine member Tribal Council.
5.1.1. The mission statement is: "To promote, plan and provide for the health, welfare, education, environmental protection, cultural preservation and economic well being of Tribal Members and to protect Treaty Rights now and in the future."
5.1.1.1. The Red Cliff Tribal Council consists of the elected governing body of its citizens. Elections for the Tribal Council take place yearly in July.
5.1.1.1.1. The 1854 LaPointe Treaty was a negotiated agreement by Chief Buffalo with the U.S. after there were previous threats to remove the Lake Superior villages.