TOPIC OF ARTICLE : WE SHOULDN'T OBSESS ABOUT OVERPOPULATION
by syahirah rahman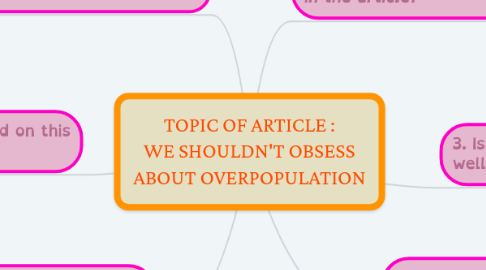 1. 1. What is author's point of view?
1.1. Disagree
1.2. We shouldn't obsess about overpopulation
2. 2. What are the key points stated in the article?
2.1. Overpopulation leads to positive agricultural trade
2.2. Have more than enough food to feed ourselves even number of people rising
2.3. Population growth does not lead to climate changes
3. 3. Is the article clear and well-supported
3.1. Yes
4. 4. Does the author provide any counter-arguments?
4.1. Yes
4.2. Lower fertility among citizens will leads higher consumption and economic output
5. 5. Do you agree with author's point of view/argument? Why?
5.1. No
5.2. Because population is least influential part of the climate change calculation
6. 6. What is your stand on this issue?
6.1. In my opinion, world should enforce population because if we don't limit the population, world will be having a crisis on food.