COP
by Carlos Vaz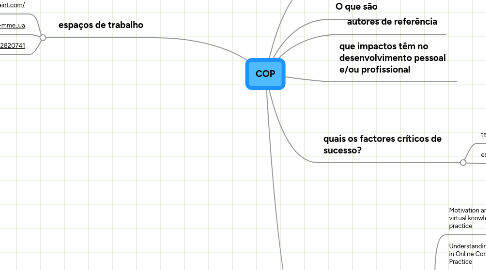 1. que impactos têm no desenvolvimento pessoal e/ou profissional
2. quais os factores críticos de sucesso?
2.1. tecnologia
2.2. estimulantes
3. O que são
4. Palavras-chave
4.1. comunidades de prática
4.2. comunidades de aprendizagem
4.3. comunidades online
5. autores de referência
6. revisões bibliográficas
6.1. Motivation and barriers to participation in virtual knowledge-sharing communities of practice
6.2. Understanding Knowledge-Sharing in Online Communities of Practice
6.3. What Motivates Cooperation and Sharing in Communities of Practice?
6.4. Identifying success factors of ICT in developing a learning community
6.5. Communities of Practice: A Literature Review
6.6. Gestão Curricular Intencional numa Comunidade de Prática Online.
6.7. Communities of Practice Evaluation Report
6.8. Concepção de uma CoP online: um estudo em torno da integração das TIC na disciplina de EVT
7. espaços de trabalho
7.1. http://ead0809.wetpaint.com/
7.2. http://groups.diigo.com/groups/ead-2008_2009-mme_ua
7.3. http://www.mindmeister.com/maps/show/12820741