PICK ME FOR WORK EXPERIENCE / TO VOLUNTEER!
by Cami Rodriguez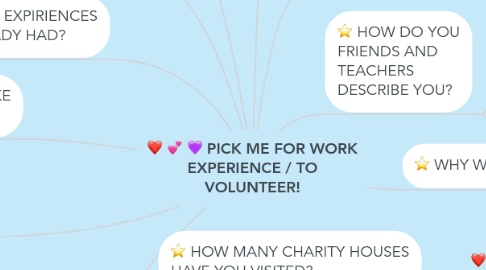 1. HOW DO YOU FRIENDS AND TEACHERS DESCRIBE YOU?
1.1. My friends and teachers, according to what I have asked, believe that I am a person who achieves his goals and is very committed to what he does.
2. WHY DO YOU WANT TO DO THIS?
2.1. Because I love helping the needy
3. WHY WILL YOU BE GOOD AT IT?
3.1. Because I love the pets
4. WHAT SIMILAR EXPIRIENCES HAVE YOU ALREADY HAD?
4.1. I have visited several charity houses
5. WHY WILL YOU DO TO HELP?
5.1. I want to help build houses for animals that live on the street
6. WHY DO YOU LIKE MOST ABOUT HELP?
6.1. The satisfaction of knowing that someone is fine because I did something
7. WHAT PLACES WOULD YOU LIKE TO WORK IN?
7.1. In the streets
8. DO YOU LIKE TO WORK ALONE OR WITH MORE VOLUNTEER?
8.1. Yes, Of course
9. WHAT VOLUNTEER ACTIVITY DO YOU PREFER?
9.1. I prefer go to charity hosue
10. HOW MANY CHARITY HOUSES HAVE YOU VISITED?
10.1. Only 2.